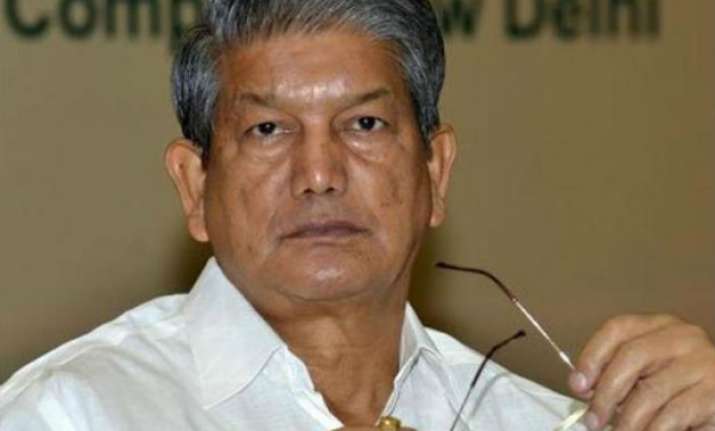 New Delhi: Amid political turmoil in Uttarakhand, the Central government today imposed of President's Rule in the hilly state. PTI reported that the State Assembly has been kept in suspended animation.
Quoting highly placed sources, the news agency said that President Pranab Mukherjee has signed the proclamation under Article 356 of the Constitution this morning.
The recommendation for Central rule was made by the Union Cabinet last night at its emergency meeting, chaired by PM Narendra Modi who cut short his visit to Assam., PTI reported, adding that 'Finance Minister Arun Jaitley briefed the President about the development'
The Cabinet considered several reports received from Governor KK Paul, who had described the political situation as volatile and expressed apprehensions over possible pandemonium during the scheduled trial of strength in the state Assembly tomorrow.
The dismissal of the Rawat government now renders tomorrow's confidence vote infructuous. It also came amidst reports that Speaker Govind Singh Kunjwal had disqualified 9 rebel Congress MLAs that would have enabled Rawat to sail through in the trust vote.
The Congress denounced the decision calling it a "murder of democracy" and said it showed that BJP did not believe in democracy.
Earlier in the day, Uttarakhand Chief Minister Harish Rawat condemned the "threat" by the Centre to impose President's rule in the hill state hit by a political crisis, saying it will be a murder of democracy and that it is not acceptable in a parliamentary system.
"The Centre is threatening a small state like Uttarakhand with President's rule. It is not acceptable in a parliamentary system. There is a procedure for President's rule, which has emerged following precedence," he told reporters on the eve of the floor test which he is due to face in the state assembly.
Rawat also accused BJP of attacking democracy with money and muscle power in its bid to dislodge his four-year-old Congress government. "They (BJP) have attacked democracy with money and muscle power," he said and appealed to the "right-thinking" people to condemn attempts by BJP to "murder democracy".
Rawat said BJP was not relying on people's mandate and accused it of using money power to overthrow the government in Uttarakhand. "It is low-level politics.