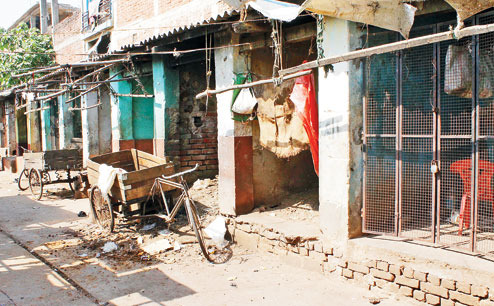 Several illegal slaughterhouses shut shops in Ranchi on Thursday as the 72-hour deadline given by the Jharkhand government ended today. 
On Monday, the state government, led by Raghubar Das, had given 72 hours to slaughterhouses to shut their illegal businesses if they fail to obtain licence from relevant authorities. 
"Who will employ me at this age? We will leave this work if the government provides us jobs," Sarwar Ali, an illegal slaughterhouse owner told ANI.
The government's move came after a demand by right wing organisations including Hindu Jagran Manch (HJM), Bajrang Dal and Jharkhand Gau Raksha Dal, for a blanket ban on slaughterhouses. 
Earlier on Tuesday, Jharkhand Urban Development Minister C P Singh also wrote a letter to the Chief Minister Raghubar Das seeking closure of slaughterhouses. 
In 2004-05, the Jharkhand government had banned slaughter of cow and buffalo, violation of which invited imprisonment up to 10 years and a fine of Rs 10,000. 
Wit Jharkhand following the footsteps of Yogi Adityanath-led government by cracking down on illegal abattoirs, the clampdown spread to four more BJP-ruled states – Rajasthan, Uttarakhand, Chhattisgarh and Madhya Pradesh on Wednesday.
Reportedly, three meat shops were sealed in Haridwar, 11 were shut down in Raipur and one in Indore on Tuesday. 
Furthermore, around 4,000 illegal meat shops in Jaipur face closure from April after the civic corporation's crackdown on such shops and slaughterhouses. 
Meanwhile, around 200 men, allegedly belonging to the Shiv Sena, forced shut as many as 500 meat shops, including a KFC outlet, in old Gurgaon for nine days on account of Navratri.