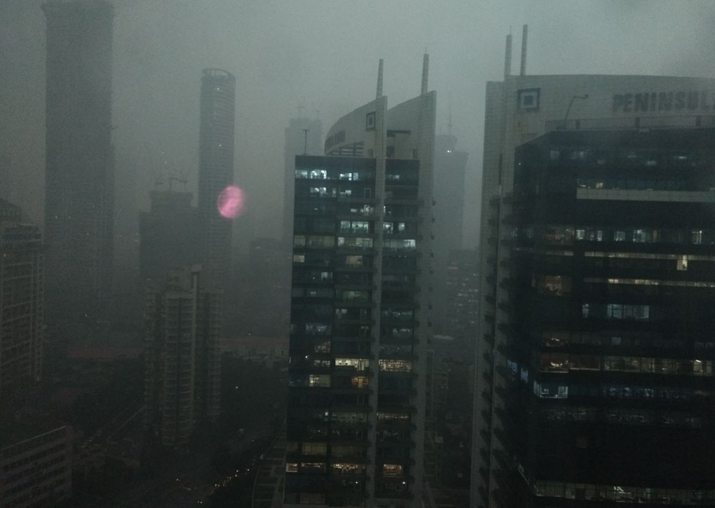 Heavy rains today lashed Mumbai city once again, panicking Mumbaikars and bringing back memories of August 29 when the city was inundated with heavy water logging and bringing the financial capital to a standstill situation.
The rains were accompanied by lightning and thunder. According to reports, the weather department had warned the city of a spell or two of rain or thundershowers on Friday.
The weather department said that monsoon has not yet bid adieu to the city and similar weather is expected to continue till October 10.
News agency ANI reported that road traffic and rail operations were, however, running smoothly today.
On August 29, the city had witnessed incessant rain, receiving 298 mm of rainfall -- throwing normal life out of gear and affecting road and suburban rail services.
The city had on Thursday recorded two to three degrees above normal temperature at 34.7 degrees Celsius -- higher than last year's highest October temperature.
As soon as the sky turned dark as heavy clouds covered the entire city, Mumbaikars took to social media to report they sudden change in weather.
#MumbaiRains #Lightening

What is this lightening and thunder?! pic.twitter.com/IkNACdsPXJ

— J R D (@jayaardee) October 6, 2017
Mumbai at 4:30 suddenly becomes pitch dark, thunder strikes, heavy rains...
But this is Oct? #Mumbai #MumbaiRains pic.twitter.com/PgxdRdTViK

— Abhinav Shukla (@JustShukla) October 6, 2017
Nariman Point right now... #mumbairains pic.twitter.com/5hXtdvhxd2

— Arup Ghoshal (@arupghoshal) October 6, 2017
Who would believe it's 5:00? #MumbaiRains pic.twitter.com/P5H0IZle1Q

— Prajakta Bhawsar (@ViratsFangirl18) October 6, 2017