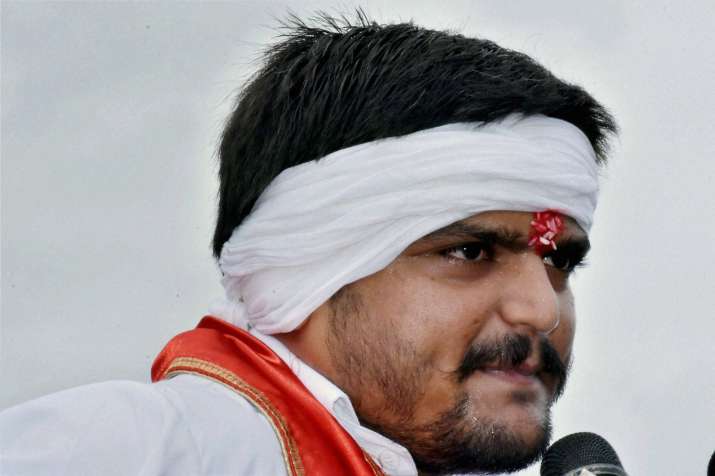 Ahmedabad:  Hardik Patel, Patel quota agitation leader, today filed an undertaking before a local court promising that he will not create any problem that will come in the way of maintaining law and order in Gujarat.
Hardik has recently walked out on bail after being confined for nine months.
He, however, made it clear that his reservation stir will continue "in a peaceful and democratic manner."
Hardik, who filed the undertaking through his lawyer, Rafiq Lokhandwala before the court of Sessions Judge S H Oza, said he will stay at Udaipur--out of Gujarat for a period of six months--as per the condition imposed by Gujarat High Court.
The High Court, while granting him regular bail in two sedition cases last week, had asked him to file a fresh undertaking on the lines of what was submitted by him during the hearing of the bail.
The court had ordered him to file the undertaking within two days of his release. It had also ordered him to add in the undertaking the condition that he will stay out of Gujarat for a period of six months and also declare the address of the place where he will stay.
"The accused shall continue the agitation for reservation on behalf of the Patidar community in a peaceful and democratic manner and shall not indulge in any acts or activities instigating the public at large in any manner whatsoever and shall also maintain public peace," he said in the undertaking.
He also said that he will "keep himself outside the territorial limits of the state of Gujarat for a period of six months."
"The accused shall not do or indulge in any acts or activities disturbing the law and order across the state," he said.
The 22-year-old quota spearhead yesterday walked out of Lajpore jail. He was granted bail last week by the High Court in two sedition cases and a case of loot and damage to properties at the BJP MLA office at Visnagar, paving the way for his release.
He was accused of inciting violence to put pressure on the government to accept the demand for granting reservation to Patels under the OBC category.
Hardik's mega rally on reservation held in Ahmedabad on August 25 last year had sparked violence killing 10 people including a policeman besides causing damage to public properties and vehicles across Gujarat.
(With PTI inputs)