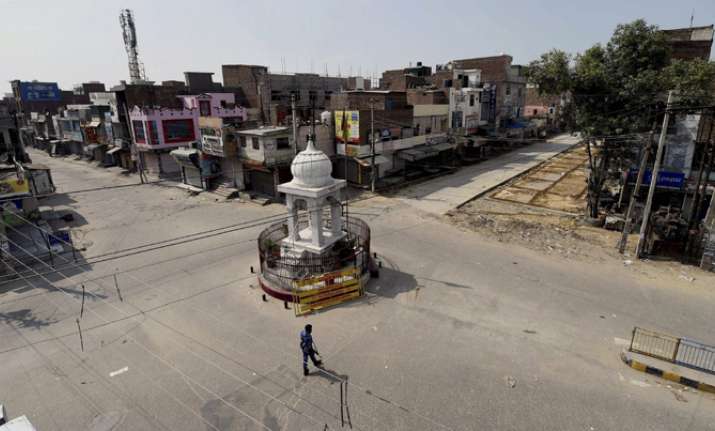 A 35-year-old cameraman of a news channel was today attacked allegedly by followers of Dera Sacha Sauda chief Gurmeet Ram Rahim Singh after he tried to enter the campus of the sect. The group of followers ran away with his car and allegedly damaged the camera. The victim, identified as Sunil Kumar, suffered injuries in his hand and leg. 
"We have recovered the looted car from the possession of the followers and the victim has lodged a complaint," a senior police official said. The incident took place when the cameraman along with a journalist tried entering the sect's premises and their car was spotted by the followers who then started chasing them. He has been taken to a nearby hospital for treatment.
#SpotVisuals: Media person beaten up, vehicle vandalized in Haryana's Sirsa near #DeraSachaSauda #GurmeetRamRahim pic.twitter.com/lcHOKyomHG

— ANI (@ANI) August 27, 2017
Following the attack, curfew was reimposed in Sirsa, reported ANI. Earlier today, curfew was relaxed for five hours in and around the headquarters of Dera Sacha Sauda in Sirsa, two days after restrictions were imposed on August 24. 
Haryana: Army flag march in Sirsa #GurmeetRamRahim pic.twitter.com/ktjnafIjxG

— ANI (@ANI) August 27, 2017
Commercial establishments including petrol pumps and stores were allowed to open in the area, news agency PTI reported. Also, curfew was withdrawn in Panchkula, adjoining Chandigarh, which saw the maximum violence on Friday after the conviction of Dera Sacha Sauda sect chief Gurmeet Ram Rahim Singh in a rape and sexual exploitation case by the CBI special court.
Read Also: Dera violence: Peace restores in Haryana, Punjab; security remains on high alert
Ahead of Gurmeet's sentencing on Monday, four columns of the Army have cordoned off the Dera's headquarters on Saturday and appealed to the scores of Dera followers inside to immediately vacate the 1000 acre premises. Paramilitary forces and state police have also formed a second security cordon outside the headquarters and a deadline till 8 am was set for the followers to leave.
As it happened today: 
07:17 pm: Won't allow any gathering in Rohtak. All trains& buses coming to Rohtak have been stopped or cancelled: Navdeep Singh Virk, IGP Rohtak Range
07:16 pm: Special check points set up on all roads leading to Rohtak.Haryana Police, Dist Police&Special Paramilitary forces at place: IGP, Rohtak Range
07:14 pm: Special arrangements for his security. Although we haven't received official itinerary proceedings hopefully begin around 2.30 pm: Navdeep Singh Virk, IGP Rohtak Range
07:13 pm: Special CBI Court will be held inside premises of Sunaria Jail. The judicial officer will come here by air from Panchkula: IGP, Rohtak Range
07:13 pm: 103 Deras have been sanitized: Haryana DGP BS Sandhu 
07:12 pm: There is no army deployment in Rohtak as of now, they have been kept on standby: Haryana ADGP (Law & Order)
07:11 pm: FIR under sedition charges registered in Panchkula police station (based on a news report) against Aditya Insan & Dhiman Insan: Haryana DGP
07:10 pm: 23 companies of paramilitary forces deployed in Rohtak: Mohammad Akil, Haryana ADGP (Law & Order)
07:10 pm: All arrangements in and outside the jail are complete :Mohammad Akil, Haryana ADGP (Law & Order) on tomorrow's sentencing of Ram Rahim Singh
Also Read: Ram Rahim verdict: 'Law & order top priority for Haryana Police ahead of Dera chief's sentencing' 
06:06 pm: 24 deceased people from Sirsa identified, postmortem done:  Haryana DGP BS Sandhu 
06:05 pm: Total 38 deaths, 32 in Panchkula and 6 in Sirsa. All 6 deceased people from Sirsa have been identified: Haryana DGP BS Sandhu
06:04 pm: Adequate police arrangements made, paramilitary forces also there. Army kept on standby: Haryana DGP ahead of Ram Rahim sentencing 
06:04 pm: Curfew is imposed only in Sirsa, no other part of the state. There is peace here: Haryana DGP BS Sandhu 
06:03 pm: She (Honeypreet Insan) was in chopper with court's permission: Haryana DGP BS Sandhu
06:03 pm: Judge said that this is Jail Department and Govt's prerogative; she didn't get permission so she is not in jail: DGP BS Sandhu 
06:02 pm: After Ram Rahim Singh's conviction, she (Honeypreet Insan) expressed her desire to go with him as attendant stating he is unwell: Haryana DGP
06:01 pm: Court proceedings will be around 2:30 PM: Mohammad Akil, Haryana ADGP (Law and Order) on Ram Rahim verdict
06:00 pm: 52 cases registered till now, 926 people arrested: Haryana DGP BS Sandhu
04:59 pm: 5 Dera followers held for defying prohibitory order in Hisar 
04:44 pm: All schools, colleges, educational institutions in Haryana's Panchkula, Rohtak, Kaithal & Ambala to remain closed tomorrow
04:44 pm: Section 144 to remain in effect in Ambala till further orders.
04:43 pm: Haryana Home Dept orders suspension of mobile internet, SMS, all dongle services till 11:30 AM on Aug 29. Voice calls on mobile networks not affected: ANI
04:36 pm: Services of bulk messages and mobile internet suspended in Haryana's Kaithal, ahead of sentencing of Dera chief Ram Rahim Singh tomorrow.
04:34 pm: Broadband, internet lease lines in premises of Dera Sacha Sauda, Sirsa suspended till 29 Aug ahead of Ram Rahim Singh's sentencing 
2:50 pm: 
Jo Media-karmi subah gaye they wo adventure karne ke liye galiyon se hokar gaye they humare forces ke saamne kabhi nahi nikle: #Sirsa DC pic.twitter.com/pRAeU2kGcX

— ANI (@ANI) August 27, 2017
2:48 pm: There will be no relaxation in curfew tomorrow. It will be imposed throughout the day, says Sirsa DCP
2:46 pm: 
Number of followers inside Dera is dropping.They are leaving for their homes& we are helping them: #Sirsa Deputy Commissioner Prabhjot Singh pic.twitter.com/6YpSoDhkGR

— ANI (@ANI) August 27, 2017
11:35 am: 
Was shooting when curfew was relaxed. Ppl outside Dera chased&beat us up with stones&batons. Snatched camera bag,Live-U&vehicle:Media person pic.twitter.com/OsOL8lY52Z

— ANI (@ANI) August 27, 2017
11:30 am: We are going towards southern Punjab,where Dera Sacha Sauda supporters have greater hold,to check if everything is all right there: Punjab CM Amarinder Singh
11:15 am: Curfew reimposed in Sirsa, reports ANI
11:00 am: 
Haryana: Media person beaten up,vehicle vandalized in Sirsa near #DeraSachaSauda #GurmeetRamRahim

— ANI (@ANI) August 27, 2017