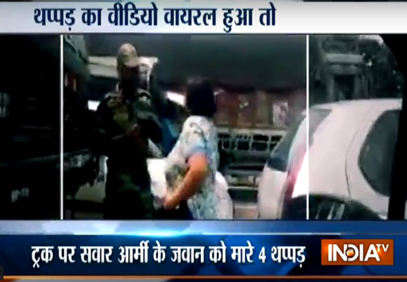 A woman, who was caught on camera slapping an Army jawan repeatedly, has been arrested after her video went viral on social media.
Smriti Kalra, who lives in Gurgaon, had stopped her Tata Indica car in front of an army truck ferrying soldiers. There was no collision or any obvious provocation for the attack. Kalra, who lives in Gurgaon, has been charged with "causing hurt to deter a public servant".
According to media reports, the jawan had said that Kalra had "suddenly" stopped the car and she started hitting him.
The 45-year-old woman was later released after a judge granted her bail on the same day.
A video probably recorded by an eyewitness shows the woman repeatedly slapping and hitting a jawan while he tried to save himself by covering his face.
WATCH THE VIDEO HERE: