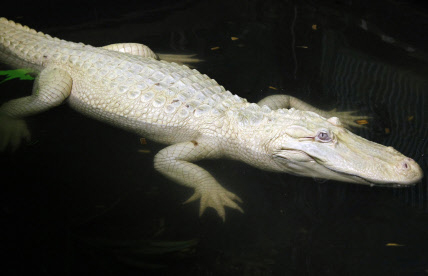 Kendrapada (Odisha): The 41-year-old Gori, India's lone captive albino crocodile, has laid 40 eggs in Bhitarkanika National Park, Kendrapada, thereby reviving hopes that it will attain motherhood. 
"We are maintaining vigil on the eggs laid by the captive female croc. There is possibility that eggs laid by Gori may be infertile. Their fertility contents can be confirmed only if baby crocodiles emerge from them after 40 days of incubation," said forest department officials. 
41-year-old Gori, hatched and bred by Odisha forest department as part of a crocodile conservation programme, was in the spotlight over the years for its typical behavioral instinct. Living in captivity since its birth in 1975 in the national park, the reptile continues to shun mating habits. It had rejected companionship on several occasions in the past. 
"We are glad to know that the albino species has laid eggs. Around 45 eggs have been spotted in the vicinity of the pond in the enclosure inside Dangmal crocodile research center in Bhitarkanika national park where Gori has been living for the past 41 years since its birth in 1975. But it's too early to conclude that she is on way to attain motherhood," said Divisional Forest Officer, Rajnagar Mangrove (Wildlife) Forest, Bimal Prasanna Acharya today. 
Acharya said on past occasions too Gori had laid eggs but those were found to be infertile. "Our expectations had fizzled out as no baby crocodiles had emerged out of the eggshells." 
The forest department would have to wait for at least 40 days of incubation period, he "If babies come out of the eggshells, it can then be said that Gori had found its male partner and mated." 
The enclosed pond where the albino crocodile lives at present has been connected with natural water bodies on the periphery and her habitat given a natural ambience. She now has unhindered movement to nearby water bodies and water inlets and is slowly adapting itself to natural environs. 
Possibility of a male croc in the wild intruding into the pen to mate with Gori may not be ruled out, the forest department officials said. 
Gori is eight foot long and has whitish patches over her body. Mating attempts have been made at least five times in past years but she has rejected the male partner each time. 
"On occasions the albino crocodile was sighted attacking male partners in contemptuous disregard to mating. But mostly the reptile is found to be docile in nature," Acharya said. 
The reptile was the mascot for National Youth Festival held in Bhubaneswar in 2010.
(With PTI inputs)