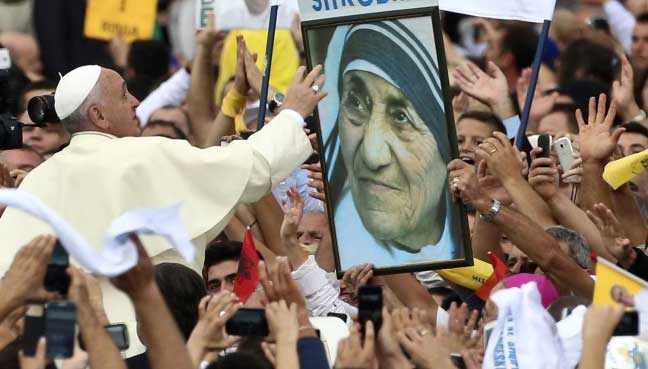 While lakhs have gathered to witness the ceremony marking Mother Teresa's elevation to sainthood, Twitterati appears to be unhappy with the same.
So much so that ahead of the canonisation ceremony in Vatican City, there has been a trend by the name #FraudTeresa on the microblogging website for about six hours.
With many questioning her legacy on the social media, it has become a burning topic for today.
From putting forth the issue of conversion to pointing fingers at her charitable works, many took to Twitter to unleash their angst against the Nobel laureate nun.
Here are a few such tweets:
Congress kept the Indians poor all these years so that agents of Vatican like #FraudTeresa can run conversion business successfully.

— Ashima 🇮🇳 (@AshiWords) September 4, 2016
If you can't keep religion out of charity then it's not charity - Applicable to all religions. #FraudTeresa

— Sathwik Sriram (@sksathwik) September 4, 2016
#FraudTeresa justified death of 30000 in bhopal gas tragedy by calling them SINNERS,&asked to pardon pious'Christian' Anderson&UnionCarbide

— sham Choudhary (@no1jat) September 4, 2016
#MotherTeresa helped people to convince them for conversion.. And that's why she's #FraudTeresa

— Mayur Acharya (@MayurAcharya1) September 4, 2016
What a pity? We forgot Sister Nivedita but embraced Teresa whose sole motive was conversion to Christianity.#FraudTeresa

— bannerjivaishnavi (@vbannerji) September 4, 2016
However, many came out in Mother's support too and attacked others for putting her in a negative light:
#TwitterTrolls couldn't leave even #MotherTeresa alone. With #FraudTeresa trending, it looks like trolling and criticism wait for no one.

— Merrily Mellow (@murfymans5) September 4, 2016
Mother was for christianity or no she helped the poor and the down trodden thats what matters #FraudTeresa

— Rani (@raniharipriya) September 4, 2016
Stop you idiots. How many people are doing services to the people who are sick and leprosy. she has done a great job #FraudTeresa

— Robinson S M (@Robinjermi) September 4, 2016
Its a real shame those who trend #FraudTeresa for their cheap publicity.

— Chandramouli Dorai (@moulidorai) September 4, 2016
Pope Francis of the Roman Catholic Church will today declare Mother Teresa as a saint in a grand ceremony in the presence of over a lakh of her followers from all over the world.