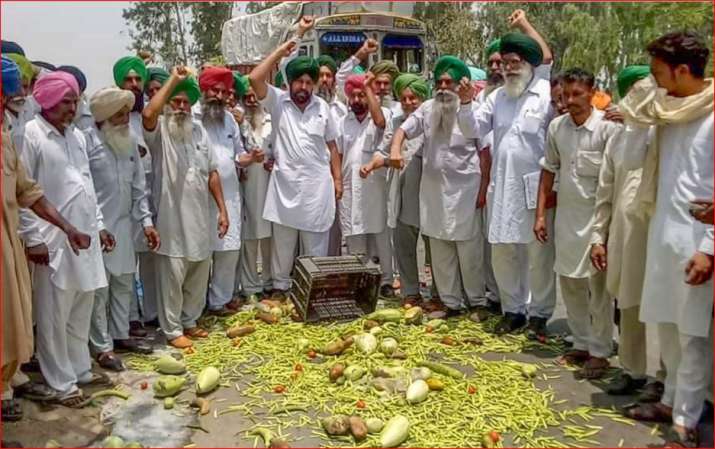 On second day of farmers' nationwide agitation, retail prices of vegetables shot up and fresh supply of farm produce was hit in some cities of the country on Saturday.
According to reports, the retail prices of vegetables in several cities rose in the range of Rs 10-20 per kg today though the impact of farmers' stir on price of farm commodities was not visible yesterday.
In Mumbai, the Left-affiliated All India Kisan Sabha (AIKS) accused the Maharashtra government of having a "negative approach" to the protest. 
"Farmers across the state are holding protests but the government seems to have a negative approach over keeping the promises it had made to farmers last month," AIKS general secretary Ajit Navle told reporters. 
At a meeting of farmers' organisations today, it was decided that the protests would be intensified from June 5, he said. 
According to news agency PTI, Delhi may face problems in supply of fresh vegetables, fruits and other perishables in the next week in case the farmers' stir in neighbouring states intensifies.
Trucks of vegetables, fruits and other food items reached Delhi today but if the farmers resort to strict enforcement of cutting supply to the cities, the situation may deteriorate from next week, said Adil Khan, chairman of Azadpur Mandi. 
"The Mandis in Delhi have stocks of the vegetables and other items. The stocks are enough to meet demand for next two days. After that if fresh supplies do not arrive, situation may worsen," he said. 
Farmers protesting for media attention: Union Agriculture Minister Radha Mohan Singh
Coming down heavily on the protesting farmers, Union Agriculture Minister Radha Mohan Singh said that the protest by farmers in various parts of the country were attempts to get media attention.
"It requires some unusual deeds to appear in the media. The country has about 12-14 crore farmers. There will always be organisations with a following of a few thousand," Singh told media persons in Patna.
Strongly condemning Singh's statement, the opposition parties demanded his removal from the Union Cabinet.
"It is the height of insensitivity on part of the Union agriculture minister at a time when farmers are under so much distress. He should be sacked immediately," RJD spokesman Manoj Jha said.
"Radha Mohan Singh's comments is part of a series of uncharitable remarks made by BJP leaders against farmers. We wonder if (Prime Minister Narendra) Modi sees him as a poster boy for his proclamation of 'sabka saath sabka vikas'," he added.
Rahul Gandhi to address farmers' rally in Mandsaur on June 6
Congress President Rahul Gandhi will address a rally of farmers at Mandsaur in Madhya Pradesh on June 6.
The Congress president took to twitter to announce that he would address the farmers' rally to support their ongoing nationwide protest and highlight the agrarian issues in the country.
"Every day, about 35 farmers commit suicide in our country. To attract government's attention towards the agrarian crisis, farmers are forced to protest for 10 days. I'll address a rally in Mandsaur on June 6 to stand with them in their struggle," Rahul Gandhi tweeted.
June 6 is the first anniversary of the deaths of seven farmers who were killed in police firing in Madhya Pradesh's Mandsaur.
Rahul Gandhi's tweet came a day after a 10-day farmers' protest began on Friday.
Farmers' agitation will end once govt announces support prices for crops: Prakash Javadekar
Union Minister Prakash Javdekar on Saturday said that the agitation of farmers will stop once his government announces the support prices for crops.
"They will get to understand when the prices will be declared. The agitation will stop then," Javdekar said.
Javdekar said that the Narendra Modi government's plan was to provide a "long-lasting" solution to the issues being faced by the farmers.
"I will not try to comment. I don't want to subscribe (to) motives now for farmers' agitation. People are seeing it and people are responding to it," Javadekar told media persons at the Press Club when asked if he sensed any political agenda in the 10-day protests.
Several farmers' organisations have jointly called the 10-day protest across 22 states in the country demanding remunerative prices for their produce, implementation of the Swaminathan Commission recommendations and farm loan waivers, among others.
Watch Video: From Mumbai to Delhi, Vegetable prices soar
(With agency inputs)