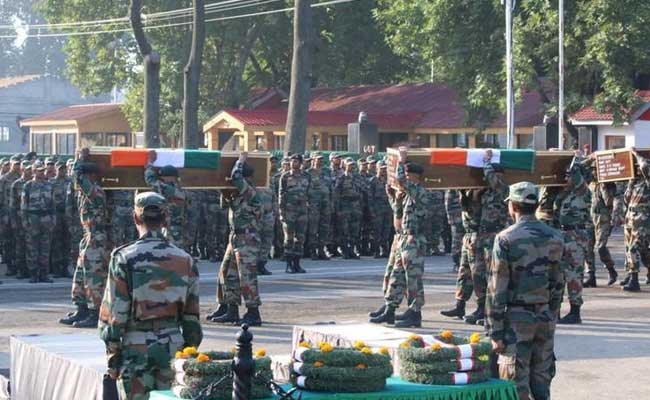 The Ministry of External Affairs today voiced its disappointment over the European Union's "muted response" to the Uri attack that killed 19 Indian soldiers.
Proposing scaled up counter-terror cooperation between India and the 27-nation bloc, Secretary (West) in the MEA, Sujata Mehta, in her keynote address at a seminar on 'India-EU Cooperation in Security and Global Governance Domains' at Carnegie India, emphasised on the need for an "effective and comprehensive" global regime under UN through which the phenomenon of terrorism --whether state sponsored or through non-state actors-- be dealt with "firmly and effectively".
Noting that India has been a "victim of terrorism from across our border and on account of terrorism being used as an instrument of State policy", Mehta also pitched for early adoption of the draft Comprehensive Convention on International Terrorism (CCIT) by the UN General Assembly.
"EU too has called for the perpetrators of the Mumbai attacks to be brought to justice, and again, as India does, the EU is in favour of decisive and united action against groups and entities ranging from ISIS, Al-Qaeda and its affiliates and Lashkar-e-Taiba, Jaish-e-Mohammad, Hizb-ul- Mujahideen, and the Haqqani Network.
"Here I would like to express some disappointment at the relatively muted response of the EU to the Uri attack on September 18," she said. As many as 19 soldiers were killed in the Uri attack carried out by Pakistan-based terrorists.
The shared concerns of India and EU on terrorism, including from foreign terrorist fighters and from returning jihadis makes it imperative for us to intensify our cooperation, she said.
She said India was also working to ensure full implementation of UNSC Resolutions 1540, 1373, 1267, 2253 for designating individual terrorists and groups, and strengthening the sanctions regimes against them.
(With PTI inputs)