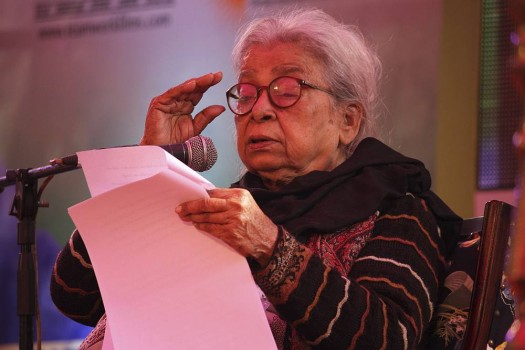 Eminent litterateur and social activist Mahasweta Devi today passed away at a hospital in Kolkata at the age of 90.
Doctors at the private Belle Vue Clinic hospital, where she had been admitted on May 22, said she died of a cardiac arrest at 3.16 PM which was preceded by multi-organ failure.
Doctors said she had been admitted with illnesses related to old age. Her condition had deteriorated as a result of blood infection and kidney failure.The writer-activist, who is known for her dedicated service for the welfare of tribals in different parts of India, was suffering from kidney and lung ailments, besides blood and urinary tract infections.
Born in 1926 in Dhaka (now in Bangladesh), Mahasweta Devi was a recipient of the Jnanpith, Padma Vibhushan and Magsaysay award, among several others.
Her notable works include include 'Hajar Churashir Ma' (Mother of 1084), 'Aranyer Adhikar' (Right to the Forest, 'Jhansir Rani' (The Queen of Jhansi), 'Agnigarbha' (The Fire Within), 'Rudali', 'Sidhu Kanhur Daakey', 'Bish-Ekush', 'Chotti Munda 0 Tar Teer' and 'Subhaga Basanta', among many others. She had become the voice of the tribals and other oppressed classes with her writings.
Several of her works have been adapted in films over the years.
Her attachment to tribals didn't stop with her literary works as she not only founded and patronised several tribal societies but also pleaded on their behalf with government authorities.
Mourning her death, West Bengal Chief Minister Mamata Banerjee said that her body would be kept at Peace World mortuary tonight and in the morning it would be brought to the cultural hub of Rabindra Sadan where the public can pay their last respects to the departed soul.
In the afternoon she will be cremated with full state honours.
"India has lost a great writer. Bengal has lost a glorious mother. I have lost a personal guide. Mahashweta Di rest in peace", Banerjee said recalling her association with Mahasweta who had supported her in the fight against acquisition of land in Singur and Nandigram.
West Bengal Governor K N Tripathi in his condolence message said, "I am deeply grieved to learn about the sad demise of Pamabibhusan Mahasweta Devi, a renowned author and social activist. I convey my heartfelt condolences to the bereaved family and her numerous fan-followers."
The Governor said that the writer was famous for her writings and work related to the study of the Lodhas and Shabars, the tribal communities of West Bengal, women and dalits.
"In her elaborate Bengali fiction, she depicted the brutal oppression of tribal people and untouchables by potent, authoritarian land lords, lenders and venal government officials," Tripathi said in his message.