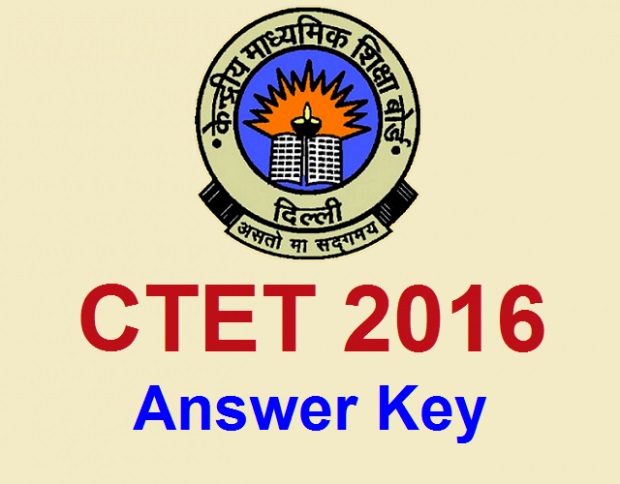 The Central Board of Secondary Education (CBSE) has Released the Answer Keys for CTET September 2016. Candidates can download Answer Keys from its official site www.ctet.nic.in 

 

The examination was conducted in September, 2016.
Around 7-8 lakh candidates are expected to take the test. The examination will be conducted in two shifts for appointed of teachers for Class 1 to class 8.
The test will divided into two papers -- Paper 1 for Class 1 to 5 and Paper 2 for Class 6 to 8. The CTET Paper 2 timings will be from 9.30 am to 12 noon whereas the Paper 1 will be from 2.00 pm to 4.30 pm.
Steps to download CTET February Exam 2016 Answer Key

• Visit the official website of CTET which is www.ctet.nic.in.

• Click on 'CTET Feb 2016 Answer Key'.

• Click on the activated link of 'official answer key'.

• Choose your paper set

• Download the answer key.

• Predict your performance.
According to the direction issue by the CBSE, all the candidates will have to reach their respective test venues 90 minutes before the examination begins. The candidates will be required to carry blue/black ball pen and their admit card with one valid ID proof.
The CBSE conducts the CTET on the behalf of HRD Ministry and the qualified candidates are eligible to apply for teacher posts in Centre-run schools that include Knedriya Vidyalayas, Navodaya Vidyalayas, Central Tibetan Schools and other schools under the administrative control of Union Territories.
About CTET: 
About CTET: The Ministry of Human Resource Development, Govt. of India has entrusted the responsibility of conducting the Central Teacher Eligibility Test (CTET) to the Central Board of Secondary Education Delhi.  In accordance with the provisions of sub-section (1) of Section 23 of the RTE Act, the National Council for Teacher Education (NCTE) vide Notification dated 23rd August, 2010 and 29th JULY, 2011 laid down the minimum qualifications for a person to be eligible for appointment as a teacher for class I to VIII. 
Read more Latest News from India News Desk