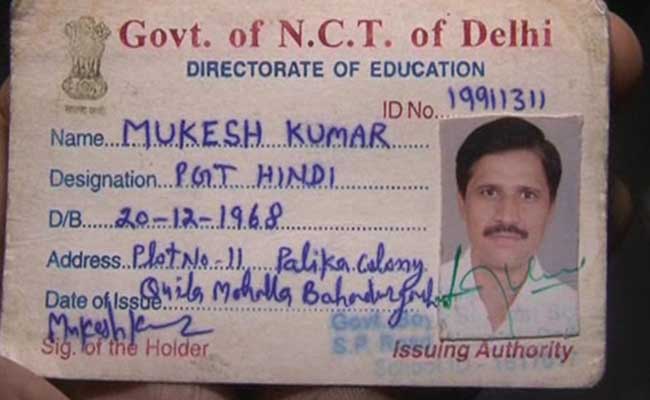 In a shocking incident, a government school teacher was on Monday stabbed to death by two Class 12 students during an exam in West Delhi's Nangloi area.
Mukesh Kumar, a Hindi teacher, collapsed after being stabbed thrice. He died later in hospital.
Both the students have been arrested. One of them is 18 and the other will be in two months, the police say.
One of the students, who had been expelled recently from the school, had barged into the classroom to confront Mr Kumar during the exam around 5 pm.
The teen's friend, who was writing the exam, left his seat and joined him.

The police say the boys "lost their temper" and attacked the teacher. The punched him, stabbed him repeatedly and then ran away, leaving him bleeding on the floor.
A teacher who was also in the school at the time said: "I was submitting exam sheets ...suddenly I heard some noise and saw two children running. When I went there I saw Mukeshji was bleeding ...we immediately took him to hospital."
He said the students had threatened Mr Kumar and also the principal over the past few days. Both had failed their exams multiple times.
Mr Kumar's brother-in-law said: "He told us that there are six children who failed thrice and their parents were threatening him."
Teachers of the school have planned a protest march to demand more security, alleging threats by some students who had been punished either for failing exams or for poor attendance.
PTI inputs