Follow us on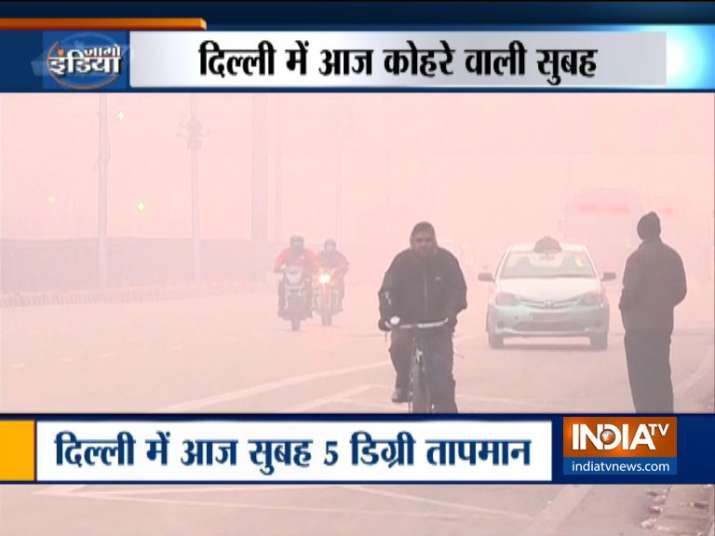 Delhi which is continuously suffering from air pollution accompanied by dense fog by vehicular exhaust and coal burning witnessed yet another bad day on Friday. Ten trains were delayed in the morning after the minimum temperature settled at 7 degree Celsius.
Flight operations at the Delhi airport were disrupted owing to dense fog. 
Arrivals and departures have largely been put on hold at the IGI airport. Two flights were also diverted between 5.30 AM and 8.30 AM.
"Flight operations have largely been put on hold. Very few aircraft are departing and that too on the basis of their size, visibility and ATC (air traffic control) clearance for taking off," an airport official said.
According to the official, departures were completely put on hold from 5.30 AM to 7 AM and arrivals happened only intermittently in between 6 AM to 7.20 AM. Departures were not allowed even after 7 AM due to dense fog.
One of the flights diverted from the IGI airport was coming from Singapore. It was diverted to Kolkata, he said.
At Delhi, the minimum runway visibility required for take off is 125 metres.
The Delhi airport was facing low visibility conditions since 4 AM Friday due to dense fog, the official said.
Vistara Airlines tweeted at 8.23 AM on Friday that "due to dense fog and poor visibility in Delhi, delays are expected for both arrivals and departures with likely consequential impact on flights across network".
"Currently, flight departures from Delhi are on hold and will resume by 0930 hrs subject to weather clearance," it added.
Jet Airways also tweeted on 6.33 AM that some of its flights have been affected as there is dense fog at Delhi airport as well as Bengaluru airport.
The Delhi Traffic Police alerted commuters of poor visibility. Tweeting a list of 'Dos and Don'ts', the police said, "Visibility low due to intense fog in the border areas and the border area around India Gate in Delhi. Drive with caution. Maintain moderate speed. Drive with headlamps switched on".
The India Meteorological Department has said that there will be dense to very dense fog at several places in western Uttar Pradesh, Haryana, Rajasthan and Uttarakhand for the next two days. In the east, there is dense fog forecast over Assam, Meghalaya and Tripura.
Thick fog descended on Prayagraj, earlier known as Allahabad, where the Kumbh Mela is going on. Devotees were seen braving the cold to take a 'holy dip' at the Sangam on Friday. The central government has set up specialized real time weather stations and a weather App, for Kumbh, was also launched for the benefit of the pilgrims.
The official data maintained by the Centre-run System of Air Quality and Weather Forecasting and Research (SAFAR) put the condition at severly polluted. The Particulate Matter (PM) 2.5 level was recorded at 146 while the PM 10 was docking at 233 in New Delhi.
The AQI was recorded 420 at 8 am at Dhirpur, while in Mathura Road area, it dipped to 'hazardous' category with AQI 423. AQI near Pitampura, Airport Terminal 3 and Delhi University stood at 434,397 and 448 respectively.
An AQI between 0-50 is considered good, 51-100 satisfactory, 101-200 moderate, 201-300 poor, 301-400 very poor and 401-500 is considered severe/hazardous.
Watch: Dense fog envelops national capital