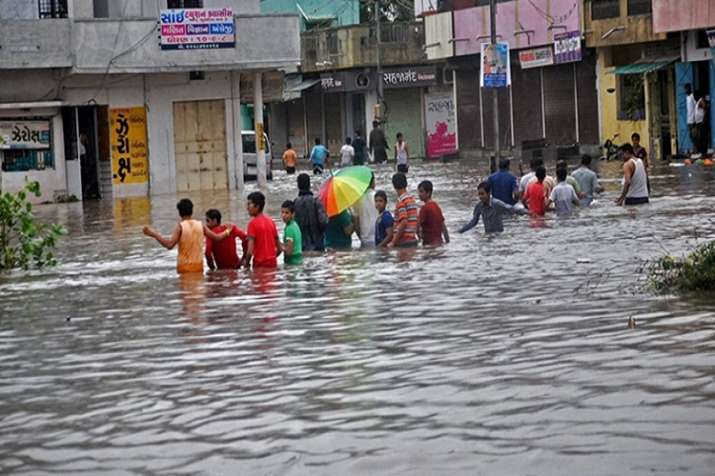 As many as 19 people have been killed in Gujarat following torrential rains during the past one week. The state government has relocated more than 1,000 people to safer places. South Gujarat's Navsari has been witnessing heavy rains this monsoon and is the most affected district of the state.
Nearly 10 villages in Navsari have been put on alert, with a dozen others in danger of being marooned.
Saurashtra region of the state has also received good downpour, with Kodinar in Gir Somnath district receiving heavy rains of 115 mm and Talaja in Bhavnagar district about 100 mm of rain till 6 pm on Thursday, according to figures provided by state emergency operation centre.
"Heavy rains have caused a total of 19 deaths in the state since last week. We also have reports of 84 cattle perishing in the rains. Around 978 persons from across the state, primarily South Gujarat, have been evacuated to safety," Manoj Kothari, Relief Commissioner, Gujarat, told reporters on Thursday.
"Many villages also do not have electricity, but we are trying to restore power supply at the earliest," he added.
A total of 15 teams of National Disaster Response Force (NDRF) have been deployed in the state, out of which four teams are in South Gujarat, four teams in Vadodara, three teams in Gandhinagar and one team each in Amreli, Jamnagar, Palanpur and Mahisagar districts.
Warnings of heavy to very heavy rains in many parts of Gujarat have been issued by the meteorological department for the next 48 hours.
"South Gujarat, East-Central districts of the state and coastal Saurashtra districts would receive heavy to very heavy rains and at some isolated places even extreme heavy rains are expected in Surat, Navsari and Valsad." Jayanta Sarkar, Director, Met Department, said.
"Heavy rains are also expected to lash some isolated regions of Panchmahals, Dahod, Mahisagar and Kheda districts. Other part of the state could witness moderate to heavy rains in coming four days," he added.
118 of the total 251 talukas (tehsils/blocks) in the state have received heavy rainfall during the past 24 hours, with more than two inches of rains lashing over 30 talukas.
Heavy rains continued in the South Gujarat region on the second consecutive day. Waghai in Dangs district received over 121 mm of rains, followed by Surat city with 107 mm and Bharuch and Dolvan in Tapi district with around 95 mm.
Watch: Heavy rains in Gujarat, Madhya Pradesh trigger floods