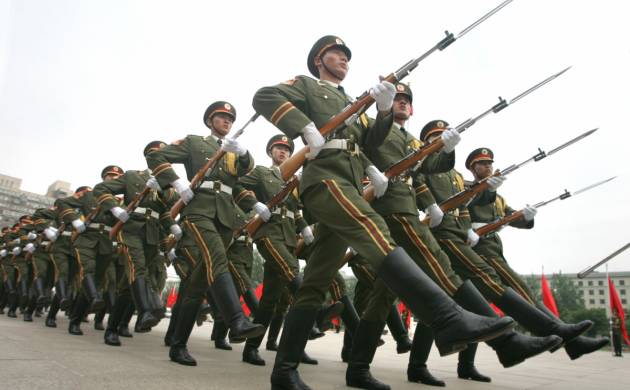 Amid the ongoing military standoff between the two sides in the Sikkim sector, Chinese troops continue to intrude across the Line of Actual Control (LAC) into Indian territory – the latest in Barahoti in Uttarakhand's Chamoli district a week ago.
On July 25, some 10-15 soldiers of the People's Liberation Army "transgressed" into Uttarakhand's Barahoti and came up to 800 metres to 1 km into Indian territory.
Though they left around two hours later, a similar incident reportedly took place in the same area on Sunday as well, says a Times of India report. 
The Chinese troops entered almost 1 km inside the disputed area in Barahoti to threaten Indian shepherds who were grazing their cattle in the area at about 9 am. After ITBP troops reached the spot, the Chinese troops quietly went back to their territory without any "contact or standoff". But they returned on Sunday morning, before leaving once again after marking their presence.
Government sources however played down the Barahoti transgressions, holding that similar incidents had happened in the area in the past also and were normally sorted out by the local commander. 
"This is a mere transgression. Here no military force is being used. So this is not an incursion. Therefore, it should be looked at in that way only. There should be no linking of this with Doklam. If we do that, it will look alarmist which it is not," defence expert PK Sehgal told ANI. 
He added that Uttarakhand's Barahoti has been under dispute since 1962 and thereafter annually, along the entire border of about 4,000 km, there have been 400-500 transgressions.
However, the timing of the Barahoti incidents is significant as it is similar to the transgressions in Depsang and Chumar (eastern Ladakh) in 2013 and 2014 that were timed around top-level bilateral meetings. 
The Barahoti transgression came just three days before India's National Security Advisor Ajit Doval was slated to meet Chinese President Xi Jinping and other senior officials in Beijing. The Sunday incident in the same area came after Doval returned to India after the BRICS meet there. 
Mr Doval's meeting with President Jinping has not resulted in the defusing of tension.
In 1958, India and China had listed Barahoti as a disputed area where neither side would send their troops. In the 1962 war, the PLA did not enter the middle sector and focused on western and eastern ones.
In June 2000, India had unilaterally agreed that ITBP troops would not carry arms in the three posts of Barahoti as well as Kauril and Shipki (Himachal). ITBP men, in fact, often patrol in civil dress in the area, with Indian shepherds from border villages tending their sheep and people from Tibet bringing their yaks for grazing in the pasture.
Indian and Chinese troops have been locked in a standoff at Donglang near Nathula since June 16. The faceoff began when Indian soldiers acted in coordination with Bhutan to block the construction of a road by Chinese troops in Donglang, which is under Beijing's control but claimed by Thimphu.