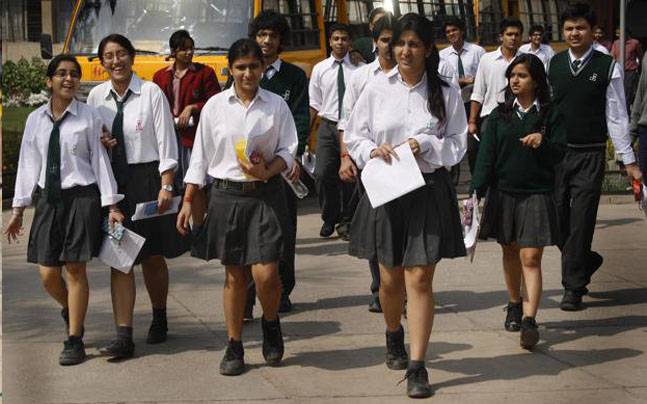 Amid widespread outrage over leak of Central Bureau of Secondary Education (CBSE) question papers, Union HRD Minister Prakash Javadekar on Friday said that out of the 16 lakh students, over 14 lakh won't have to appear for Mathematics re-exam while the re-test for class 12 Economics paper would be held on April 25.
"I am amazed to see headlines in some news channels about confusion over retest. Out of 16 lakh students, more than 14 lakh students of Class X will not have to give retest in Maths. This is the final decision," Javadekar tweeted.
"Class-X students from J&K, Uttarakhand, Himachal, Punjab, Chandigarh, Rajasthan, UP, Bihar, WB, Northeastern states, Jharkhand, Odisha, Andhra, Telangana, Karnataka, TN, Puduchery, Andaman, Lakshadweep, Kerala, Karnataka, Goa, Maharashtra, Gujarat, MP, Chhattisgarh will not give Maths retest," he said.
"As far as Delhi and Haryana, where police investigation is on, retest for Class-X Maths will be conducted only if investigation points to large scale leak. There should be no confusion", he added.
In the interest of students of 12th class so that their career is not hampered, their Economics retest will happen on April 25. So now no confusion. All the best, Javadekar said in a tweet. 
The minister said the announcements made by his ministry should clear all confusion regarding the re-test of the CBSE class 10 Maths and class 12 Economics papers. 
Education Secretary Anil Swarup, while answering a barrage of questions from reporters on the leaks issue, said a preliminary inquiry has revealed that the leak of the Class 10 mathematics paper was restricted only to Delhi and Haryana. 
He asserted that there has been no leak outside India, and therefore no re-examination will be held abroad. 
Meanwhile, the Delhi Police has registered separate cases on March 27 and March 28, respectively, to probe the leak of the class 12 Economics paper and class 10 Mathematics paper, following a complaint by the regional director of the CBSE.
The cops have questioned 35 people, including a coaching centre's owner, 18 students and some tutors, in connection with the case, an official privy to the investigations said.