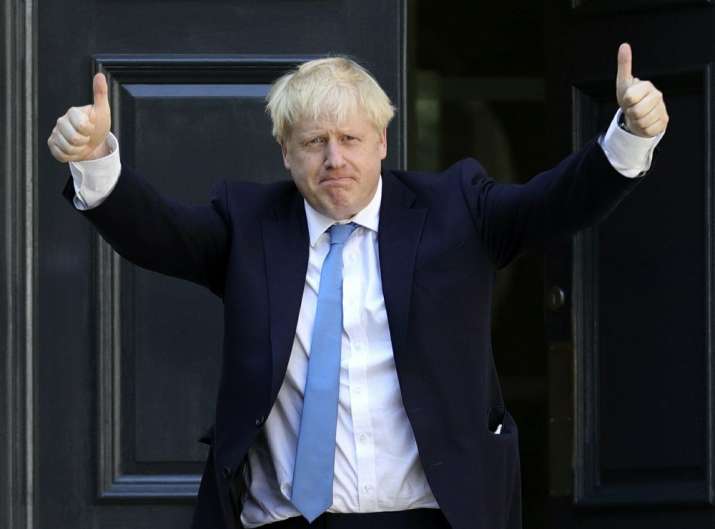 Boris Johnson, Britain's blustering Brexit campaigner, was chosen as the U.K.'s next prime minister on Tuesday, with a resounding mandate from the Conservative Party but conflicting demands from a politically divided country.
Johnson is set to become prime minister on Wednesday after winning an election to lead the governing Conservatives. He will have just over three months to make good on his promise to lead the U.K. out of the European Union by Oct. 31.
Famed for his bravado, quips in Latin and blond mop of hair , Johnson easily defeated Conservative rival Jeremy Hunt, winning two-thirds of the votes of about 160,000 party members across the U.K. He will become prime minister once Queen Elizabeth II formally asks him to form a government, replacing Theresa May.
The embattled May announced her resignation last month after Parliament repeatedly rejected the withdrawal agreement she struck with the 28-nation bloc, leaving Britain stranded in Brexit limbo. The U.K.'s departure from the EU was delayed from its long scheduled exit in March.
Johnson radiated optimism in a brief victory speech to hundreds of party members and lawmakers, pledging to "deliver Brexit, unite the country and defeat Jeremy Corbyn," leader of the opposition Labour Party.
"I say to all the doubters: 'Dude, we are going to energize the country, we are going to get Brexit done,'" said Johnson, a former London mayor and British foreign secretary.
In a sign he hopes to move beyond the largely white, male and affluent Conservative Party members who chose him as their leader, Johnson's office said he will put together a "Cabinet for modern Britain," with a record number of ethnic-minority lawmakers.
Hunt, a stolid politician compared to the flamboyant Johnson , said he was sure his rival would "do a great job."
"He's got optimism, enthusiasm, he puts a smile on people's face and he has total, unshakable confidence in our amazing country," said Hunt, who is likely to be removed as foreign secretary by the new prime minister.
Johnson wooed Conservatives by promising to succeed where May had failed and lead the U.K. out of the EU — with or without a divorce deal.
Johnson insists he can get the EU to renegotiate, something the bloc insists it won't do. If not, he says Britain must leave the EU by the Oct. 31 deadline, "come what may."
Brexit hardliner Boris Johnson won the contest to lead Britain's governing Conservative Party and will become the country's next prime minister, tasked with fulfilling his promise to lead the UK out of the European Union. (July 23)
The EU is adamant that the deal with May will stand, saying Britain has to take it or leave it.
Michel Barnier, the bloc's chief Brexit negotiator, said he looked forward "to working constructively" with the new Conservative leader "to facilitate the ratification of the Withdrawal Agreement."