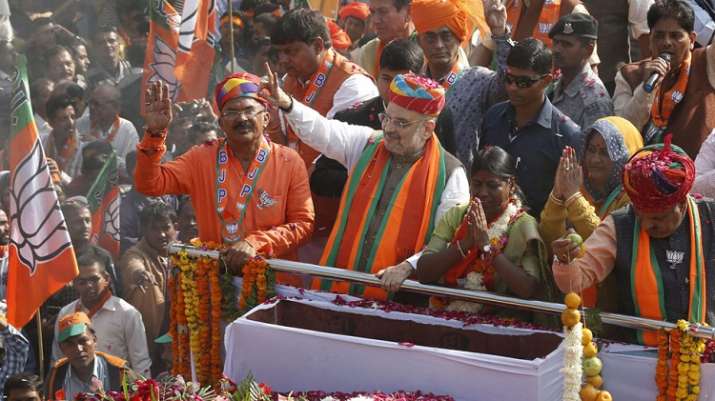 Holding a meet with senior officials of the West Bengal administration on Thursday, the Bharatiya Janata Party (BJP) said it will stick to its planned route for the Rath Yatra programme but launch it only after getting the nod from the government. While addressing the media over the meet, which was set up as per orders of a division bench of the Calcutta High Court, state BJP chief Dilip Ghosh said the fresh dates for the programme would be announced after the administration gave the go-ahead.
"As per court orders, higher representatives of both sides sat for the discussion. On our part, we stuck to our initial point regarding the route that we had mentioned in our written application," he said.
Ghosh, who was accompanied by party general secretary in-charge of the state Kailash Vijayvargia and state party leaders Jay Prakash Majumdar and Pratatp Banerjee during the discussions at the city police headquarters Lal Bazar, said, "The route for the Rath Yatra will be the same. There are no changes in that but there will be some changes in the dates."
The state government at the meeting was represented by Chief Secretary Malay De, Home Secretary Atri Bhattacharya and Director-General of Police Virendra.
"We have agreed that whenever we are given the permission, we will make arrangements in two-three days. The national leaders who were supposed to come will have to be informed accordingly," said Ghosh.
He mentioned that they were asked if it was a religious event to which he made it clear that it was totally a political event.
"One can call it 'Ganatantra Bachao Yatra'(rally to save democracy) to reach out to the masses. We are not terming it Rath Yatra anywhere," he said.
Asked if Prime Minister Narendra Modi would come on December 16, Ghosh said: "For now the entire programme is adjourned. As we get the permission, dates will be finalised."
The state government had on Wednesday asked the state BJP leadership to meet the top officials to deliberate on the party's Rath Yatra programme, in the wake of an order from a Calcutta High Court division bench to that effect.
The saffron outfit was scheduled to hold three Rath Yatra rallies on December 7, 9 and 14 from north Bengal's Cooch Behar, South 24 Pargana district's Gangasagar and Birbhum district's temple town Tarapith, respectively. The rallies were slated to cover all the 42 Lok Sabha constituencies in the state.
The BJP had sought permission from the state government but moved the Calcutta High Court after it failed to get any response for the first rally -- which was slated to be flagged off by party chief Amit Shah.
But the single-judge bench of Justice Tapabrata Chakraborty refused permission to hold the yatra "at this stage" and deferred it till January 9 after the state government declined to green light the programme arguing it might trigger communal tension.