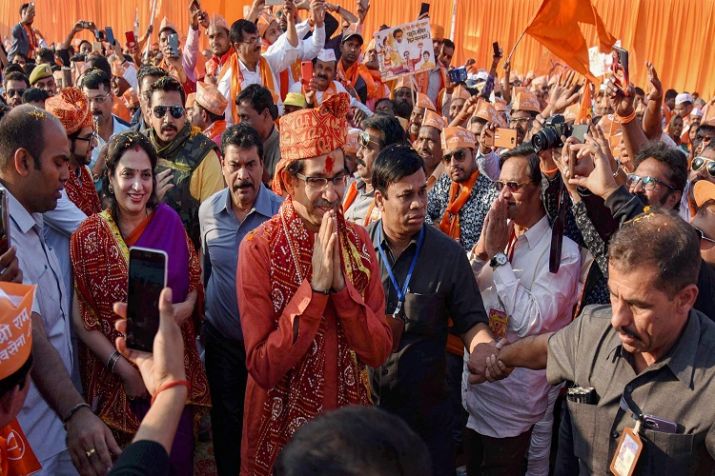 In an effort to mount pressure on the government for bringing a law to construct a grand Ram Temple, the Vishwa Hindu Parishad (VHP) is all set to hold rallies across the country commencing from Sunday.  The VHP has planned to organise three rallies in Ayodhya, nagpur and Bengaluru on Sunday followed by a grand rally in Delhi on December 9. After the December 9 mega rally, the VHP has also planned to start a nation-wide movement from December 18.
Addressing the media on Friday, the VHP said that the 'Dharam Sabha' in Ayodhya is its last effort to clear hurdles for the construction of the Ram Temple in Ayodhya.
ANNOUNCE DATE, BRING LEGISLATION FOR CONSTRUCTION OF RAM TEMPLE IN AYODHYA, SAYS SHIV SENA LEADER UDDHAV THACKERAY
Shiv Sena leader Uddhav Thackeray who arrived in Ayodhya along with his family a day before the VHP rally urged the Modi government to announce date and bring in an ordinance or legislation for the construction of Ram Temple.
"Days months, years and generations have passed. First say, when you will construct the temple, the rest we will talk later", Thackeray dared Modi-government.
"Bring an ordinance or law, Shiv Sena will support it", Thackeray said.
The Shiv Sena leader who is on a two-day visit to Ayodhya also performed 'maha aarti' on the banks of River Sarayu.
THE TEMPLE CITY TURNS INTO FORTRESS A DAY AHEAD OF VHP RALLY
The temple city turned into a virtual fortress with multiple layers of security and deployment of drones a day ahead of the 'Dharam Sabha' rally. The local administration has tightened the security across the holy city in peripheral areas ahead of the rallies by RSS and VHP.
Speaking to news agency ANI, Additional Director General of Police Anand Kumar said, "the state government and District Administration have made elaborate security arrangements to maintain law and order in the city and the adjoining areas".
The VHP claimed three lakh people, including seers, will attend its public meeting, which has triggered some apprehension over the safety of the town's Muslim community.
Samajwadi Party and former Uttar Pradesh chief minister Akhilesh Yadav said the Army should be deployed in Ayodhya, if needed, to maintain law and order.
All India Muslim Personal Law Board (AIMPLB) Zafaryab Jilani said Muslims in Ayodhya are "terrified" ahead of the VHP meeting.
The RSS, Vishwa Hindu Parishad, and BJP have been running a campaign for the construction of a Ram temple in Ayodhya. On December 6, 1992, kar sevaks of right-wing Hindu organisations demolished the disputed structure. Many BJP leaders, including LK Advani and Murali Manohar Joshi, are facing a criminal case in connection with the demolition. 
WATCH VIDEO: