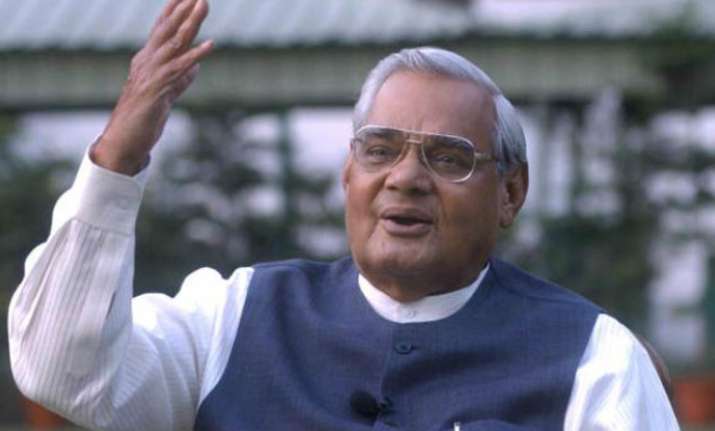 Born in 1924 to a middle-class Brahmin family, Atal Bihari Vajpayee is an orator par-excellence, a meaningful politician, spirited statesman and BJP's tallest leader. 
A political persona known for his exemplary leadership and contribution to Indian politics, Vajpayee not only built the strongest opposition to Congress's one-party rule but was also the first non-Congress PM to complete a full-term.
Atal Bihari Vajpayee is born to parents Krishna Devi and Krishna Bihari Vajpayee on December 25 in the year 1924 in Gwalior. He completed his schooling from Saraswati Shishu Mandir in Gwalior and then went on to Victoria College to graduate with distinction in Hindi, English and Sanskrit. Following on, he completed his post-graduation with an M.A. in Political Science from Kanpur's DAV College. 
Vajpayee's father was a school-master-cum poet, who passed on his poetic skills to Vajpayee. Also, Vajpayee was conferred India's highest civilian honour Bharat Ratna to Atal Bihari Vajpayee in 2015.
A parliamentarian for over four decades, Vajpayee has been elected to the Lok Sabha for ten times, and twice to the Rajya Sabha. He also served as the Member of Parliament for Lucknow, Uttar Pradesh, until 2009, when he retired from active politics due to health concerns. At present, Vajpayee is admitted at Delhi's AIIMS after being diagnosed with urinary tract infection, for which treatment on him is underway.
​WATCH VIDEO | Excerpts from former PM Atal Bihari Vajpayee's best poems and speeches:
WATCH VIDEO | Atal Bihari Vajpayee's powerful message-'Kashmir par Bharat ka sar nahin jhukega'
WATCH VIDEO | 'Haar nahin maanunga, raar nahi thaanunga'- A glimpse at Atal Bihari Vajpayee's glorious life
When Rajat Sharma grilled Atal Bihari Vajpayee in AAP KI ADALAT: Watch FULL SHOW Here