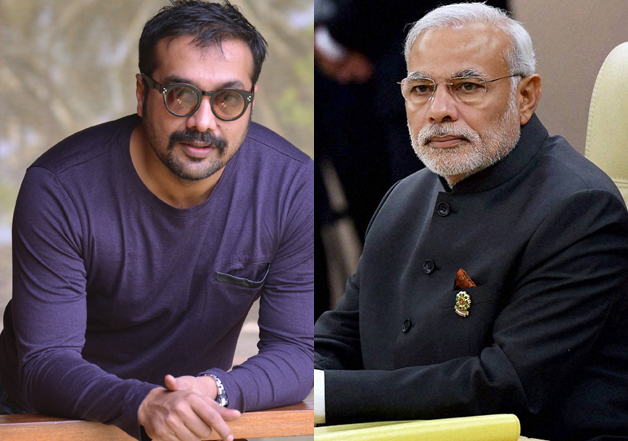 Filmmaker Anurag Kashyap, who recently sparked controversy after he questioned Prime Minster Narendra Modi on twitter about his impromptu trip to Pakistan last year, has now written a long Facebook post to explain his stand.
In the post, the filmmaker said that it was never his intention to seek an apology from the PM.
"NO, Anurag Kashyap did not "ask the PM to apologise"(which most of the headlines would want you to believe, no one has their mind anyways)" Kashyap said in the Facebook post today.
While pointing out that film industry has become a soft target for those trying to hit headlines, he said,
"I merely questioned the fairness in judgement of a situation: the PM visited Pakistan for talks at the same time that a filmmaker was working with a Pakistani actor. Neither was aware of future events or mood. Yet only one pays the price."
Defending his direct tweet to the PM, Kashyap wrote "when the governing party's designated members don't respond in hours of crisis because they are second guessing the mood of the PM then I would rather talk straight to the PM himself".
In the post, Anurag wrote that it was unfortunate that he has to explain his stand and that his friends from the industry are suffering because of him.
On Sunday, October 16, Anurag had posted a series of tweets in his bid to lend support to his friend Karan Johar's 'Ae Dil Hai Mushkil'.
ADHM ran into a great deal of trouble because of Pakistani actor Fawad Khan's extended cameo. MNS asked for his replacement and have now threatened multiplexes with vandalism if they release the movie; besides cinema owners association decided against its release in four states namely Maharashtra, Goa, Karnataka and Gujarat.
Miffed over the treatment the movie was getting, Anurag took to micro-blogging website saying that PM Modi should have told about his trip to the neighbouring country to wish his Pakistani counterpart on his birthday, December 25.
Anurag's questions started another controversy and he was lambasted by many. Kiren Rijiju, Union Minister of State for Home Affairs, said that it has become a fashion to question PM on everything. Actor and politician Shatrughan Sinha also asked what the connection is between PM and ADHM. The filmmaker was trolled on social media for his words.
Here is what Anurag wrote in his latest Facebook post: