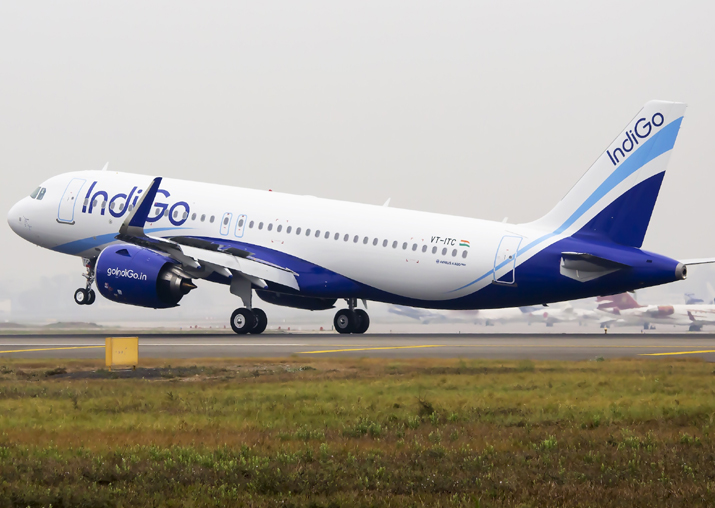 Budget carrier IndiGo, whose 11 A320neo aircraft powered by Pratt & Whitney (P&W) engines are grounded due to safety concerns, on Sunday had to pull out one more such aircraft from service.
The A320 neo aircraft, bearing registration number VT-ITX, has not flown since 8:45am today after landing at New Delhi's Indira Gandhi international Airport (IGIA), according to FlightRadar24, a flight-tracking website. 
According to a source, the airline was forced to ground the aircraft after metal chip particles were detected in the jet's engine oil after it completed the Bengaluru-New Delhi flight this morning. This is the third incident of an IndiGo A320neo, fitted with P&W engines, facing a glitch since the grounding of 11 aircraft on March 12. 
IndiGo, however, in a statement said that the aircraft was "proactively withdrawn" in Delhi for a maintenance check to attend to a defect reported by the pilot. 
"These maintenance checks are part of a comprehensive programme of early detection. During the maintenance check, metal chips were observed on engine number 1, (and) number 3 bearing chip detector, which is a known concern on the Neo engine," the airline said. 
Aviation regulator Directorate General of Civil Aviation (DGCA) had on March 12 ordered the grounding of 11 A320Neo planes fitted with P&W1100 engines beyond ESN 450 series due to recurring problems, including mid-air shutdowns. Of these, eight belong to IndiGo and the rest are of GoAir. Another three A320Neos of IndiGo are already on the ground since February. 
Today's incident comes ahead of the submission of an affidavit by the DGCA next week to the Bombay High Court, in response to a PIL, on the steps taken by it to quell the anxiety of passengers over issues related to these engines. 
A city resident, Harish Agarwal, in his PIL has sought appropriate directions to the civil aviation authorities over recent reports that certain 'Pratt & Whitney (P&W) engines', which power A320neo planes, were more susceptible to engine failures. 
Concerns over the safety of such planes increased with another engine failure forcing the emergency landing of an IndiGo flight at Ahmedabad airport on March 12. 
This had forced the regulator to crack the whip saying that there was no concrete proposal in place at this stage to address the issue. 
On March 16 too, oil chip was detected on engine 2 of the VT ITE (A320neo) at Hyderabad and the plane had to be ferried to Delhi after obtaining the DGCA's nod. 
On March 13, IndiGo aircraft VT-ITH operating on the Mumbai-Delhi route had confronted the same problem. 
"Both IndiGo and GoAir have been told not to refit these engines, which are spare with them in their inventory," the DGCA had said at the time of grounding the fleet. Consequently, both IndiGo and GoAir have cancelled over 600 flights this month, with 488 flights by IndiGo alone. 
On February 9, the European Aviation Safety Agency (EASA) had issued an emergency airworthiness directive for A320neo planes fitted with P&W1100 engines having a particular serial number. 
The directive followed instances of the engines shutdown during flights and rejected take-offs involving the A320neo aircraft. On February 13, DGCA had said that it was monitoring engine glitches to ensure that safety was not compromised.