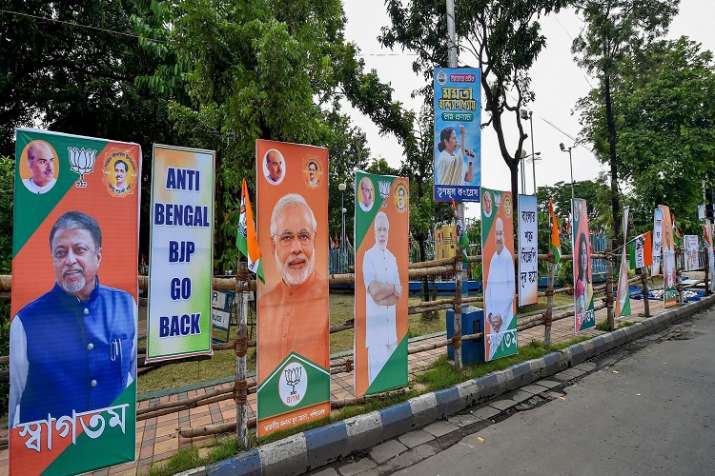 Bharatiya Janata Party (BJP) president Amit Shah is scheduled to hold a big rally in Kolkata on Saturday. While the local BJP unit is making every effort to make the rally a hit, the ruling Trinamool Congress has launched a poster war against the saffron party.
Posters asking the 'BJP to leave Bengal' were seen put up in and around Amit Shah's rally venue at Mayo Road. Several posters with Mamata's fist-clenching photo and slogans like 'Anti Bengal BJP Go Back' were seen amid hundreds of BJP posters. 
The BJP says that the TMC is already nervous about the rising people's support for the the BJP in the state.
"This shows that the TMC is afraid of our rally. The days of TMC are numbered in Bengal. The people of the state are waiting for good governance of the BJP," West Bengal BJP president Dilip Ghosh said.
Bengal is not TMC's 'personal property', the party has no right to make such demands, said another senior BJP leader.  "The people of the state will decide in the coming days who will stay and who will leave," he added.
TMC denies charge
However, TMC has rejected BJP's charge of putting up anti-BJP posters. TMC secretary-general and Bengal education minister Partha Chatterjee said his party had nothing to do with the posters.
Chatterjee said there was nothing wrong in putting up posters and placards of their party supremo. "The TMC is the ruling party in the state and we have every right to put up posters and placards. We don't need to take permission for that," he said. 
Not the first time 
The route that Shah would take to reach the venue was seen dotted with cutouts of party supremo and West Bengal Chief Minister Mamata Banerjee.
BJP national general secretary Kailash Vijayvargiya said the TMC had put up similar posters during Amit Shah's visit to Purulia in June and Prime Minister Narendra Modi's rally in West Midnapore last month.
The prime minister had even mocked by the TMC by saying that the ruling party in the state had put up the posters to welcome him, he said.
"They have done this (display of TMC hoardings) in the past too. May be it is their way of welcoming people to the state," Vijayvargiya said.
WATCH: Poster war between TMC, BJP ahead of Amit Shah's Kolkata rally
(With inputs from PTI)