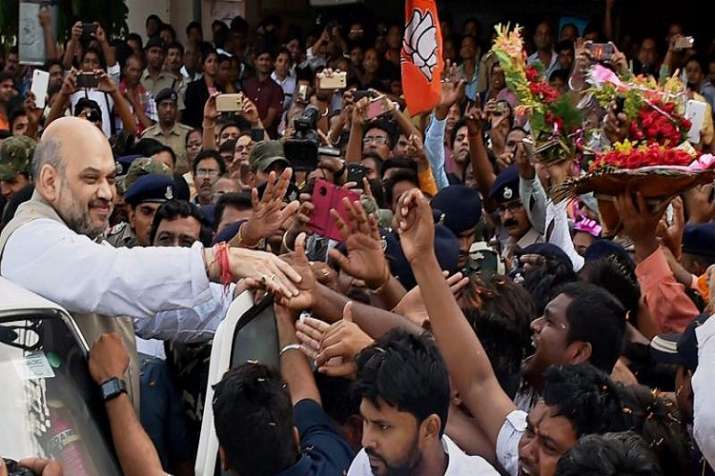 In a bid to fine-tune its strategy ahead of the crucial 2019 Lok Sabha elections, BJP chief Amit Shah on Wednesday arrived in West Bengal for a two-day visit. This is Shah's visit to the state after a gap of eight months.
During the visit, Shah is expected to hold a series of meetings with party workers and intellectuals in Kolkata and Howrah. The BJP chief will also address the Purulia district, where three BJP workers were killed recently allegedly because of their political affiliation. He is likely to meet the families of the deceased party workers.
Shah is expected to address the issue of replacement of Dilip Ghosh as the President of the Bengal unit of the party.
On Thursday, the BJP President will head for Birbhum, where he is expected to offer prayers at the local temple, following which he will attend a rally in Purulia. Purulia, incidentally, is one of the districts where the saffron party made inroads during the recently concluded Panchayat polls.
The West Bengal BJP unit is likely to submit its Lok Sabha blueprint, targeting 26 Parliamentary seats in the state to Amit Shah.
The BJP president had set the target of winning 22 seats out of the 42 Lok Sabha seats in Bengal. The party presently has two Lok Sabha seats-Asansol and Darjeeling in the state. "We will submit our complete report to Amit Shah. He had given us a target of 22 seats, but if the elections are held in a fair manner, we are in a position to win at least 26 seats," said BJP state president Dilip Ghosh.
Shah, during the two-day visit, will meet party workers from different levels of the organisational hierarchy. He will meet top leaders of the party, as well as key campaigners for each of the 42 Lok Sabha constituencies, and the party's steering committee for the 2019 general elections. The BJP president will also meet party workers from each district who are responsible for digital communication through social media.