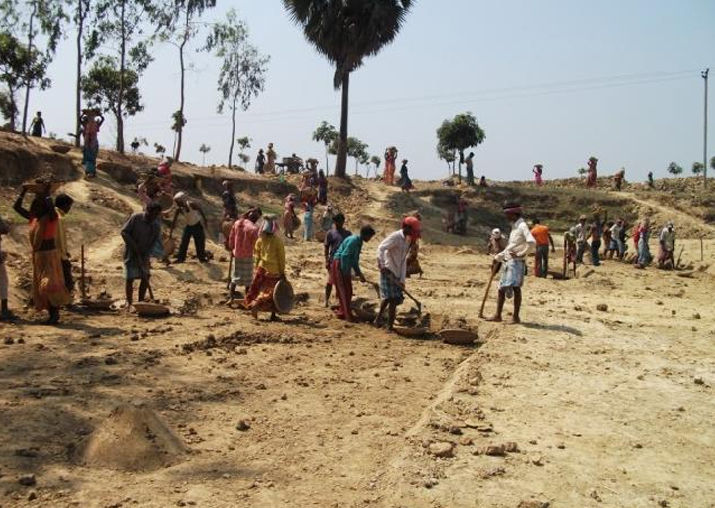 There seems government's mega push to link Mahatma Gandhi National Rural Employment Guarantee Scheme (MGNREGS) with Aadhaar is yielding results. As many as 1.47 crore MGNREGS job cards were deleted by states after 12-digit biometric linkage in last two fiscal.
According to a tweet by NarendraModi App, which was retweeted by several Union Ministers and CMs of BJP ruled states, after Modi government's decision to link MFNREGS beneficiaries with Aadhar, states have deleted about 1.47 crore job cards registered under the scheme during FY16-18 (as on December 19, 2017).
While in 2016-17, 1,00,68,531 jobs registered job cards were deleted by states, in 2017-18 (data provided till December 19, 2017) 46,62,839 job cards were cancelled.
In 2016-17, alone in Uttar Pradesh and Madhya Pradesh, over 43 lakh job cards were deleted. Uttar Pradesh toped the list with 22,10,607 job cards cancellation followed by Madhya Pradesh where 21,56,910 job cards were removed from the government's database.
In the next fiscal, the West Bengal government had cancelled 13,19967 job cards followed by 3,98,160 in Odisha and 3,96,155 in Madhya Pradesh. In 2017-18, number of fake job cards that were removed by the UP government was 3,47,630.
After linking with Aadhar, states have deleted about 1.47 cr job cards reg under #MGNREGS during FY16-18 till Dec 17. pic.twitter.com/pFdeqGmd1i

— NarendraModi App (@NamoApp) February 9, 2018
The Modi government, which stormed to power in May 2014 on anti-corruption plank has continuously said that by linking various schemes with Aadhaar, it has manage to plug major source of fund leakage in social schemes. Besides, MGNREGS job cards, the government has also linked LPG subsidy and school midday meals to Aadhaar to ensure that funds go directly to the beneficiaries.
MGNREGS is one of the world's biggest employment guarantee program. It aims to provide at least 100 days of wage employment (unskilled manual work) in a fiscal to every household.