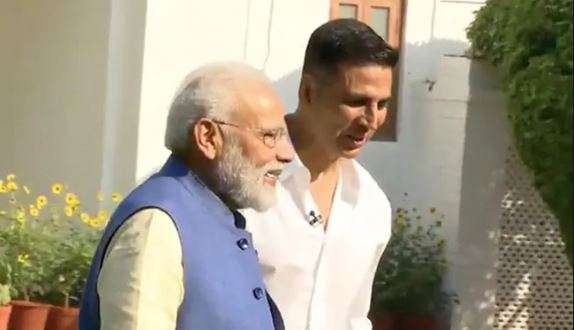 Prime Minister Narendra Modi, in his non-political interaction with Bollywood actor Akshay Kumar, revealed a lot of interesting details about his personal life. From his detachment with family, social media habits to camaraderie with oppositions, PM Modi poured his heart out in the interview with the film star. PM Modi revealed that he shares a good relationship with his oppositions outside the political array. Talking about his arch-rival West Bengal CM Mamata Banerjee, PM Modi revealed that she sends him gifts a couple of times in a year. ''People will be surprised and I should not say this in the election season, but Mamata didi sends me gifts every year. She still sends me one or two kurtas that she picks herself a year,'' PM told Akshay Kumar.
PM Modi further told Akshay Kumar that Mamata didi started sending him gifts after she came to know that Bangladesh Prime Minister Sheikh Hasina sends him new varieties of sweets every year. ''Once Mamata didi found out, she also started sending me sweets once or twice a year," he chuckled.
A day earlier, PM Modi fired fresh salvos at West Bengal CM, calling her 'speed-breaker didi' in WB rally. ''Our didi, contesting a handful of seats, is dreaming of becoming Prime Minister. If the PM's post could be auctioned, then the Congress and didi would come with whatever they have looted through corruption. One needs the blessings of 130 crore Indians to get to the post,'' the Prime Minister said in Tuesday rally.
PM Modi revealed that he even share meals with his oppositions. "Ghulam Nabi Azad (Congress leader) and I have had several chai sessions and people are surprised how an RSS (Rashtriya Swayamsevak Sangh) person like me is friends with Azad," he said.
Akshay Kumar asked several light-hearted questions to PM Modi during the course of the interview. PM talked about social media memes and Twinkle Khanna's Twitter attacks on him. He also shared some motivational thoughts and gave tips for anger management.
Watch full interview below