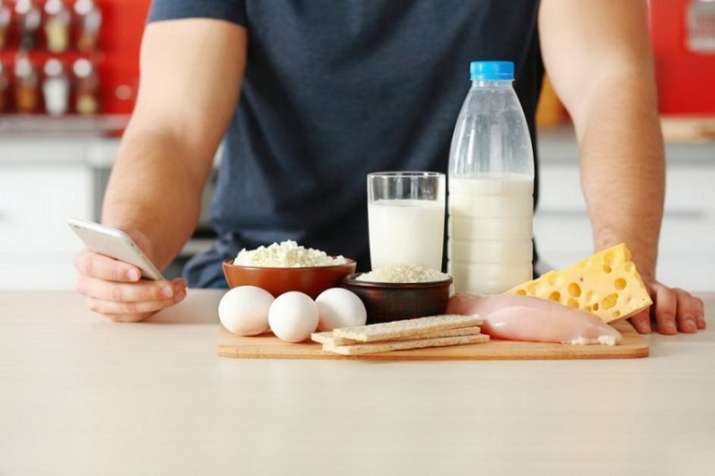 Despite the government's efforts to lay emphasis on proper nutrition, UP's Lucknow becomes the most protein-deficient city with 90% of its people suffering from protein deficiency. The fact was revealed by a survey on Thursday. The study was conducted by International Research Firm Kantar IMRB and it states that Ahmedabad and Chennai with 84% of people with protein deficiency becomes the second largest protein deficient cities. 
Vijaywada with 72 per cent and Mumbai with 70 per cent are at the third and fourth position. Delhi is at the fifth position with 60 per cent of its population suffering from protein deficiency.The study involved analysing the diet patterns of respondents. It was found that Indians suffer from a significant protein inadequacy, with 73 per cent consuming protein deficient diets.
Also Read: Eating only vegetarian diet will not meet your daily protein requirement, experts say
The study, which covered 1,800 respondents across all zones of India, highlighted that most protein deficiency was found among the vegetarians with an alarming 84 per cent. Contrary to the popular belief, the study said, not all non-vegetarian diets provided adequate protein. Indeed, 65 per cent of Indian non-vegetarian diets also were found to be deficient in prescribed levels of protein.
Earlier, the Indian Dietetic Association (IDA) had revealed that Indian diet has 50 per cent inadequate protein pattern.The study also says that protein deficiency is not well understood among the Indians in general, with only one-third respondents strongly endorsing that lack of protein can cause weakness and fatigue.
Also Read: Protein intake in Indian women is 13% lesser than men, says survey
As part of the study, another fact that has come to the limelight is that 73 per cent of the Indians believe that green leafy vegetables are a good source of protein, which is not sufficient.
"Thirty per cent of Indians strongly agree that one egg a day provides sufficient amount of protein, 29 per cent of Indians strongly agree that their regular daily diet is enough for their daily protein needs. Twentyeight per cent Indians strongly agree that their veg diet is good enough for their protein needs and also 1/5th of Indians believe that high protein diet is bad for health," said the study.
During the survey, it was found that men with families are most protein deficient followed by mothers.
"Seventy five per cent of men with families and 72 per cent mothers are protein deficient. While 44 per cent of single men were found protein deficient, among the single women the figure stood at 53 per cent. Fortyfour per cent of children in the age group of 10-15 years were also protein deficient," said the study.
Also Read: Eggs can improve growth in children?
Protein is an important nutrient in our life which is essential for repair of tissues and cells in body. But people rarely acknowledge the importance of protein in diet. Most of the people suppose that protein is only required by children during their growing phase for muscle building and immunity. 
(With IANS Inputs) 
For more lifestyle news, follow our Facebook page