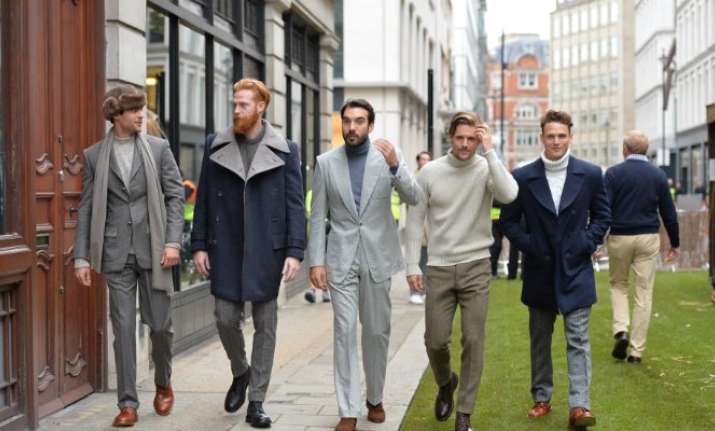 Who say only women are obsessed about heels? British men are far ahead than women as compared to British women. According to a survey, British men are less dependent on their go-to-shoe. Data from consumer analyst Minten revealed that men prefer to expand their shoe collections and are gradually becoming more choosy when it comes to their footwear choices. More than one in 10 of men have purchased more than three pair of shoes in the past one year alone. Gone are the days when men used to spend their entire week wearing the same pair of shoes for every occasion. 
The research also concluded that men nowadays are purchasing more clothes than women. Young men were more likely than women to buy footwear in the last quarter (47% of male ageing 16-24s versus 45% of women ageing 16-24s), according to the survey.  Analysts conclude this to the rising popularity of trainers and bolder shoe styles driving men's footwear sales and encouraging them to add up more to their collection. Overall, the British male clothing market grew at twice the rate of the women's equivalent last year, coinciding with the start of London Fashion Week Men's show. 
Also Read: Shoes make a man: 6 styling tips for men
The menswear market is estimated to have grown by 2.8 per cent in 2016 to hit 14.5 billion pounds, compared with the 1.3 per cent rise seen in the women's market, analysts said. Tamara Sender, senior fashion analyst at Mintel, said: "While men overall buy fewer different types of shoes than women, men aged under-45 have become more experimental with their shoe choices."
"Mintel's research shows that men aged 25-44 are now more likely than women of the same age to be motivated to update their footwear because of a new fashion trend.
"Men aged 25-34 are driving footwear purchases and are most likely to have bought three or more different types of footwear in the last 12 months." 
(With IANS Inputs)