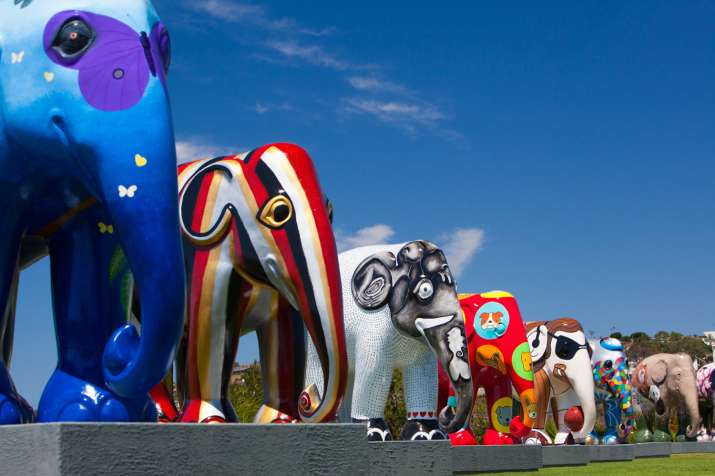 Statues of 101 life-sized baby elephant have been transformed into beautiful works of art. They are now set to be exhibited in Indian cities as part of the 22nd edition of the International Elephant Parade. This type of extravaganza is going to take place in India for the first time. It is an annual exhibition which is organized in different cities across the world by NGO Elephant Family to create awareness about the need to conserve elephants. 
20% of the net profits will be donated for elephant welfare and conservation projects. The parade will travel across the country from November 2017 to March 2018.
 For this, leading Indian artists, fashion designers, design institutes, tribal painters and celebrities were engaged to turn 101 elephant sculptures into unique masterpieces, creating a striking spectacle of colour to celebrate one of India's most beloved and endangered animals. 
The painted elephants will be displayed in herds in prominent cities to be photographed, hugged and kissed by admiring audiences as part of what has become recognised as the world's biggest public art event.
Also Read: Good news! A 70-year old elephant 'Gajraj' successfully rescued by 'Wildlife SOS' from Aundh, Satara district
The parade aims to generate funds to secure 101 elephant corridors across India for the pachyderms, who face the risk of displacement through fragmentation of their habitat and human disturbances.
Thus, after the public displays across Indian cities, the elephants will then be sold at two high profile auctions in Mumbai and London to raise funds.
"We will celebrate the magnificence of the iconic Asian elephant, generating mass awareness of their plight and making everyone smile at the same time," said Ruth Powys-Ganesh, the CEO of Elephant Family in India. 
"With the support of the world's top creatives, the 101 painted elephants will move us closer to our target to secure a network of 101 elephant corridors - vital strips of habitat that reconnect India's forests, the number one priority for this species," she added. 
Other places where the parade has taken place include Suzhou, Bangkok, Chiang Mai and Hong Kong. It was also organised in Taiwan. 
(With IANS Inputs) 
For more lifestyle news, follow our Facebook page