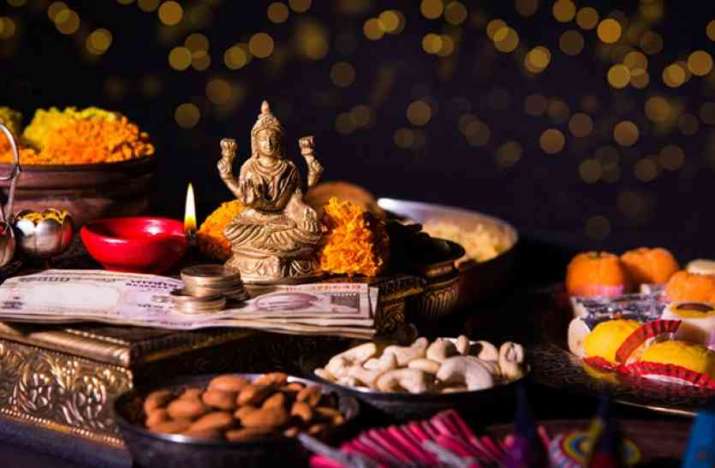 Dhanteras is an amalgamation of two words- 'Dhan' meaning wealth and 'Tera' meaning thirteen. Dhanteras marks the beginning of one of the big festivals of Hindu, Diwali. Celebrated in the thirteenth day of Kartik month as per Hindu calendar, Goddess Lakshmi and God Kuber are worshipped on Dhanteras. It is believed that God and Goddess shower wealth and prosperity on their devotees. On this auspicious occasion, Hindu families buy utensils, gold and diamond as it pleases the goddess and she bestows the devotee with more wealth.
The day is also known as Dhantrayodashi. It is said that Goddess Lakshmi came out of the ocean on this day with pot of wealth. People clean their house and decorate it with flowers, lamps, rangoli, diya, etc. Small feet which symbolises that of the Goddess is made with rice flour at the entrance of house and temple. This year Dhanteras is on October 17. Purchasing any commodity on ths day is said to influence one's financial condition for a year. Hence, it is quiet essential to know what to buy and what to refrain from.
What Not To Buy on Dhanteras 2017?
Don't purchase any commodity made of glass. It is believed that glass is connected with Rahu which is a malefic planet.
Refrain from buying aluminium utensils as this too is linked with Rahu. This can have negative impact on your life.
Don't buy sharp objects used in kitchen on Dhanteras. Purchasing knife or utensils made of iron on this day is said to bring bad luck.
Buying silver and diamond will yield more benefits than purchasing gold. If you are interested in gold then better buy gold biscuits.
Don't buy any objects whose colour is black. Since, Dhanteras is a holy day and black signifies bad luck, hence, it should be avoided.
What To Buy on Dhanteras 2017?
Buy silverware or utensils made of brass on Dhanteras. Don't forget to keep them in the East direction of your home.
It is considered auspicious to buy a broomstick on Dhanteras. It symbolises sweeping away all miseries from your home,
Buy electronic items and keep them in the North-East direction inside your house.
Hang a Swastik on your doorstep to bring good luck to your house.
If you can't afford gold coins then silver coins too will serve the purpose.