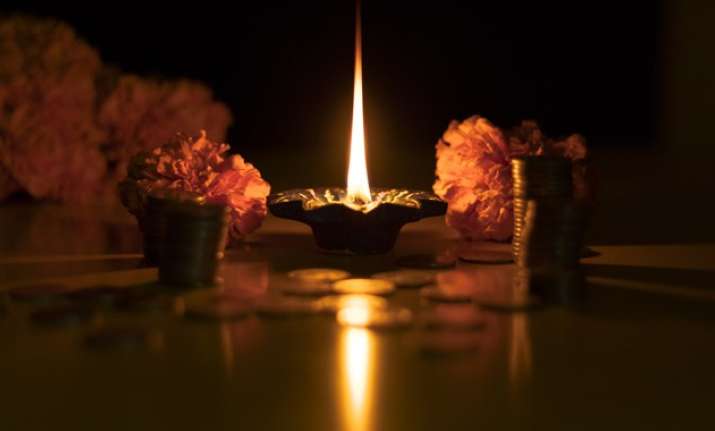 Dhanteras or Dhantrayodashi marks the first day of five-day long Diwali festivities. This year, Dhanteras will be celebrated on 17th October, Tuesday. On this auspicious day, Goddess Lakshmi emerged from the ocean during the churning of the sea which is also known as 'Samudra Manthan'. Hence, Goddess Lakshmi along with Lord Kuber is worshipped as the God of wealth. They are worshipped on the day of Trayodashi. Yet, Laxmi Puja on Amavasya after two days of Dhanteras is considered more important. According to the astrologers, Lakshmi Puja on Dhanteras should be done during Pradosh Kaal. It starts after sunset and lasts for 2 hours and 24 minutes.
According to Drikpanchang, one should not choose Choghadiya Muhurat for Dhanteras Puja. These Muhuratas are good only for travelling. The best time to perform Lakshmi Puja on Dhanteras is during Pradosh Kaal when Sthir Lagna prevails. Sthir means unmoveable. Hence, when you worship Goddess Lakshmi during Sthir Lagna, the wealth will stay. So, it is the best time to revere the goddess. Vrishabha Lagna is considered as Sthir and it overlaps with Pradosh Kaal during Diwali. 
Dhanteras 2017 Puja Timings/Muhurat
Hence, here is the exact time to conduct Dhanteras Puja. This timing contains Pradosh Kaal and Sthir Lagna, while Trayodashi is going on. We also advise you to note down your city before writing down the Dhanteras Puja Muhurat
Dhanteras Puja Muhurat - 19:19 to 20:17
Duration - 0 Hours 58 Mins
Pradosh Kaal- 17:45 to 20:17
Vrishabha Kaal -19:19 to 21:14
Trayodashi Tithi Starts- 00:26 on 17/Oct/2017
Trayodashi Tithi Ends - 00:08 on 18/Oct/2017
Dhanteras 2017 Shopping Timings/Muhurat
For shopping the Muhurat starts from 17th October 2017 7:19 pm to 8:17 pm. 
7:33 am- Food items and medicines 
9:13 am- Vehicle, machine, clothes and groceries 
2:12 pm- Car, speed-related object and gadgets
15:51 pm- Office machinery, tools, computer and shares 
5:31 pm- Jewellery, utensils, toys, clothes and stationary
7:11 pm- Groceries, ration and medicines 
Dhanteras 2017 Puja Vidhi- How to perform the rituals 
Take an elephant toy made up of clay and Lord Dhanvantari's statue/photo and establish them in a place. 
Sprinkle water using a silver or copper vessel. 
Remember Lord Ganesha and begin the Puja. 
Take Akshat flower in your hand and remember Lord Dhanvantari. 
Dhanteras Puja Mantra 
देवान कृशान सुरसंघनि पीडितांगान, दृष्ट्वा दयालुर मृतं विपरीतु कामः 
पायोधि मंथन विधौ प्रकटौ भवधो, धन्वन्तरि: स भगवानवतात सदा नः 
ॐ धन्वन्तरि देवाय नमः ध्यानार्थे अक्षत पुष्पाणि समर्पयामि...