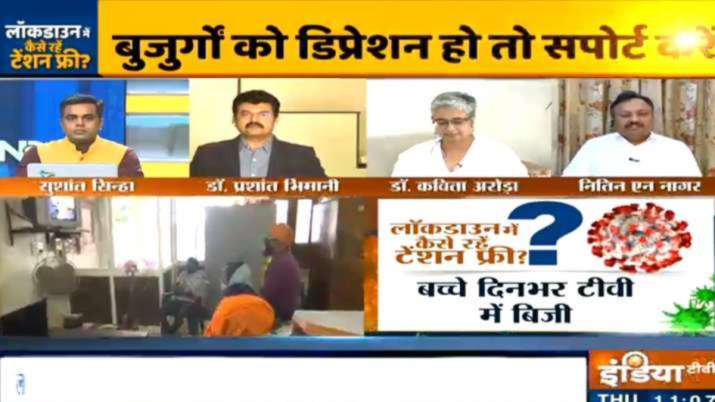 The number of patients suffering from coronavirus in the country is increasing rapidly. The number of affected people in India has crossed a toll of 1800 moreover the death rate has also increased. In order to prevent this deadly epidemic, a 21-day lockdown has been imposed by PM Narendra Modi. In such a situation, are you suffering from depression while sitting at home? Husband-wife fights have started increasing? Staying at home is irritating you? Not having a good time with your children? There are many such problems arising amongst people. If you are also struggling, then a special panel of doctors on how to bust stress and anxiety during this period will be the best option for you.
What to do if children are watching too much television?
Doctors on IndiaTV gives tips on what you should do with your children amid #lockdown#CoronaVirusOutBreak #LockDownWithIndiaTV @SushantBSinha pic.twitter.com/vuVtlIA0Z9

— India TV (@indiatvnews) April 2, 2020
Doctors say that this is the best time to spend quality and quantity time with your children. The routine is what should be taken care of. There's no problem if they are watching TV but what they are watching is more important. Parents should spend less time on social media so that your children too stay away from the television. Play creative and interesting games. This is a big change in the lives of children, where previously they used to go out and play, and now they are unable to do the same. So spend more time with them.
What to do if children are fighting and getting bored?
Doctors on IndiaTV reveal what you should do to build a strong parent-child relationship amid #CoronavirusLockdown#CoronaVirusOutBreak #LockDownWithIndiaTV @SushantBSinha pic.twitter.com/HxQCpBByvm

— India TV (@indiatvnews) April 2, 2020
Doctors suggest that during this time parents should do teamwork and should take it as a chance to deal with your kids properly. Due to stubbornness, children start getting upset, so it is necessary to talk to them. Make a routine by sitting with them. Make children feel responsibility. Parents should not allow tension in the house and should not fight in any case.
What to do if fear of coronavirus has filled the hearts?
What to do if senior citizens are getting depressed and scared amid #coronaviruslockdown ? Doctors @indiatvnews have an answer#LockDownWithIndiaTV @SushantBSinha pic.twitter.com/fvMzqttuuB

— India TV (@indiatvnews) April 2, 2020
Doctors say that the concern is only because of information. It has created such an atmosphere in the house that due to Coronavirus, everything will be over. If there will be anxiety and tension inside the elders, then the same question will come in the mind of the children. Tell the children what is right and what is wrong. It is important to listen to the children and then give the correct answer. Tell them to wash their hands, don't go out, follow the rules, then nothing will happen. Exercise at home to increase immunity.
What to do if you desire to go out with your friends?
How to interact with your friends during the time of #CoronavirusLockdown, reveal doctors on IndiaTV#LockDownWithIndiaTV #CoronaVirusLockdown pic.twitter.com/zWFIWkGQIT

— India TV (@indiatvnews) April 2, 2020
Doctors reveal that today you are getting many opportunities under the pretext of Corona due to which you can talk to more and more friends, which earlier you could not do due to shortage of time. It is the right time to befriend with yourself. First, accept yourself that this is the case and then remove the word loneliness from your mind, then you will not be disturbed. The good thing is that boyfriends and girlfriends can tell their families about the relationship during this time.
How much TV and mobile should one use during lockdown?
Doctors reveal that people used to use TV and mobiles earlier too, but now they are watching more due to coronavirus lockdown. If you are getting upset after seeing the news, then you need to understand what news to watch and what you should not.