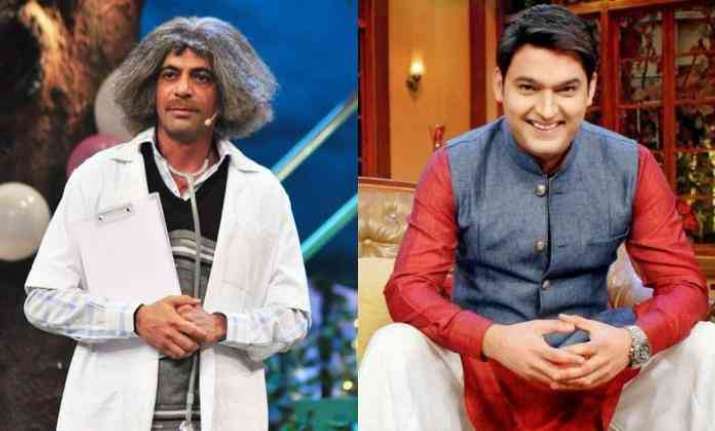 Sunil Grover's recent tweet on Kapil Sharma sparked off the mid-air spat between the two comedians. When a fan asked Sunil aka Dr Mashoor to return to Kapil's new show Family Time with Kapil Sharma, he replied that he never got a call for the show. Following this, a huge brawl broke between Sunil and Kapil. Now, Sunil Grover has come to the forefront to clear the air.
"If you have noticed I have not done a regular show since last year. I have either hosted award functions, reality show finale or done live events. I did not take up any regular show. I am not denying that Kapil didn't call me to return on TKSS, he even came home once and sent his two people to discuss work. But I was not mentally prepared to return to the show after the mid-air fight. I just want to clarify I am not targeting Kapil", Sunil Grover was quoted as saying to Times of India.
Furthermore, the comedian said, "I was tired of the fan's continuous questions about whether I was going to be a part of Kapil's upcoming show, so I decided to answer it. But I had no intentions to fight with Kapil or say any nasty things about him. I remained silent even after the fight that took place last year. I never said anything. I was under pressure since few days as my fans kept on asking me if I am doing the show and I just reacted".
Sunil's response came after Kapil Sharma lost his cool and accused him of lying. "Yes .. he is lying .. I called him 100 times n sent my people to his home .. even I went to his home to meet him for the show .. but now I will not let anybody take any advantage on my name .. enough is enough....Paji I called u more then 100 times n came to ur house to meet u twice .. every time u were out for some show n all .. pls don't spread rumors that I didn't call u," Kapil tweeted.
Paji I called u more then 100 times n came to ur house to meet u twice .. every time u were out for some show n all .. pls don't spread rumors that I didn't call u.

— KAPIL (@KapilSharmaK9) March 17, 2018