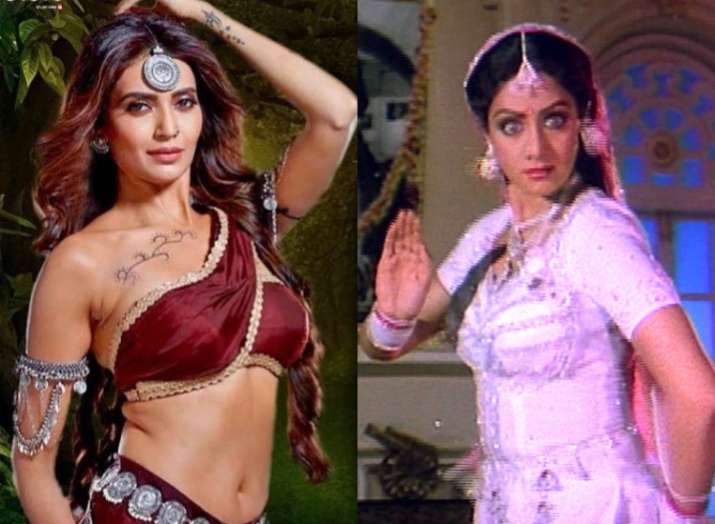 While people are going head over heels crazy for Ekta Kapoor's just-released film Veere Di Wedding, the producer gave a weekend treat to her Television fans as well. The first episode of much-awaited Naagin 3 aired this weekend and how. The show topped the TRPs and was loved by all. Even the ones who were not ready to accept Karishma Tanna over Mouni Roy were all smiles after her dynamic performance.
After the first episode, Karishma was flooded with warm tweeted in which people can't stop praising her. One Twitter user even compared her with the iconic Naagin role by Sridevi and she beamed with joy. Here is the tweet-
#AskKarishma Your character is being compared to Iconic sridevi ji. Congratulations

— I Loved Zero ❣️ (@SRKsSquad) June 2, 2018
Wow wow wow!! That's new to me!! M so glad wit this comparison. M floored :) thanku ! #AskKarishma #Naagin3 https://t.co/3TART8Z8jA

— Karishma Tanna (@KARISHMAK_TANNA) June 2, 2018
The first episode of season 3 opens with a dying Shivangi (Mouni from last season) wondering why her husband and father plotted her murder and vows to return for revenge. The episode introduced the character of Ruhi (Karishma Tanna) and her thirst for revenge. It also hints at Anita Hassanandani's character, Vishakha, who will be the other human form of Ruhi. Naagin 3 welcomed a positive response from the fans. Check out what they have to say about it.
The first episode of #Naagin3 is quite gripping...@KARISHMAK_TANNA is very convincing as naagin...amazing @ektaravikapoor @ColorsTV pic.twitter.com/0at7xxUxpU

— Garima Anurag (@GAnurag11) June 2, 2018
Okay @ektaravikapoor naagin3 is big super duper hit show of indian television and @KARISHMAK_TANNA you were fab in last episode and now waiting for @SurbhiJtweets

— ... (@teamsurbhijyoti) June 2, 2018
#Naagin3 was awesome ❤️

Ladke cute hai Usme 😶😪😅😅❤️

But love u Karishma 😍😍@KARISHMAK_TANNA @ColorsTV

— Shreya✨💫 Dipstar #TeamDipika (@Shreya_HCL) June 2, 2018
Commendable acting by @KARISHMAK_TANNA
She performed far better than my expectation... love it...#Nagin3 #Naagin3

— Anita Jirel (@pshycodoctor) June 2, 2018
Of course, there was a section of people who didn't really approve of the show and showered it with their critical response.
(Also Read: Karishma Tanna shows off her Naagin moves on a wheelchair, video goes viral)
#Naagin3 Ritvik and Rocky ne Shivangi ko kyun mara ekta u better show it someday in dis season. Bas wohi episode dekhni hai mujhe. Mouni Arjun Ada and Sudha ji were the soul of the show. Nagin is nothing widout dem just nothing

— Angel Anki (@Angel_ank1) June 2, 2018
Nothing can match #Naagin1 ka level...😌😌🐍
finally got to know that!#Naagin3 🐍

— swizel:)👒 (@swiz_el26) June 2, 2018
Karishma Tanna also took it upon herself to reply some of the tweets and thank the audience for their warm love and response.
@KARISHMAK_TANNA What's different about your role in Naagin Season 3 ?? #AskKarishma #KTian

— Kahin_Na_Kahin (@toppernishu) June 2, 2018
She is full of revenge!! Woohoo #AskKarishma #Naagin3 https://t.co/cYzeBGLAFb

— Karishma Tanna (@KARISHMAK_TANNA) June 2, 2018
@KARISHMAK_TANNA will there be also a love story in #Naagin3 like in 1&2? #AskKarishma

— Dilip Kumar Fan Club (@Amirmurt) June 2, 2018
Ofcz it will be :))) #AskKarishma #Naagin3 https://t.co/0mHoqRNzfN

— Karishma Tanna (@KARISHMAK_TANNA) June 2, 2018
While fans are aware of Anita and Karishma's characters, they are eagerly waiting for Surbhi Jyoti to make an entry in the show. Ekta Kapoor did her best to give a grand opening to both her film and the TV show, for which, she had her Television star promote Veere Di Wedding on their shows. And even Sonam Kapoor, Shikha Talsania, Kareena Kapoor Khan and Swara Bhaskar promoted Naagin. Watch here-