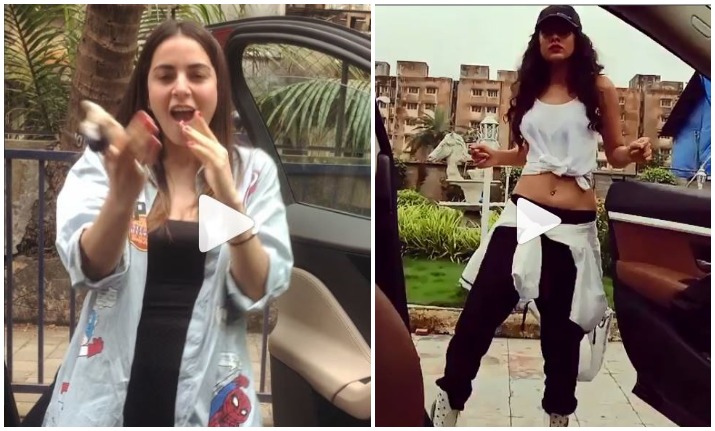 KiKi Challenge continues to grip over netizen, even a month after Drake released his song In My Feelings. In fact, the trend was spread like a wildfire across the globe to such an extent, that Drake dropped an official video thanking those who made In My Feelings what it is now. The song shot to popularity ever since Shiggy, an Instagram comedian shared a video of himself dancing on the song. Soon people gave the name 'KiKi Challenge' or In My Feelings Challenge to the trend and started recording videos while moving along a slow-moving vehicle. The challenge has been wreaking havoc ever since then and giving many state Police sleepless nights. Despite hundreds of warnings, people continue to take KiKi Challenge putting their as well as others' lives at risk.
While KiKi Challenge continues to grip over social media, let's see what our TV actors have to say about this bizarre trend.
Abhinav Shukla: Kiki challenge is another validation of the fact that social media is making people stupid!  Also, when we talk about safety, it can be perfectly safe if you get down from a slow-moving car on an open country road with no traffic!  But if you try it on a highway then I cannot fathom one's stupidity! Also, don't try this in Mumbai as you will either stumble over a pothole or fall into a manhole, the lucky ones will get hit by wrong lane violator!
Akashdeep: I've seen footage where a young girl was knocked out by a speeding car. It's an irresponsible act and signifies nothing. These are punishable acts. As it is our infrastructure stinks. Cars crawl on the pothole-ridden roads. If in top commoners and celebs are going to get out and dance it's going to get chaotic. And what does it serve? We have more important issues to work on!
Aniruddh Dave: The ongoing kiki challenge which is trending on social media is one of the most foolish trends. It's not at all safe. I feel public figures and actors should not do it since people follow them. When you never get down from a car to pick up some garbage and to put it in the right place, why do they get down from the car and dance?
Also Read: Vadodara woman does Kiki Challenge disrupting traffic on busy road; leaves Gujarat Police unhappy
Vaishali Takkar: I think this is very risky if it's not well planned. I apprehend this, a person must not do anything just for a bubble reputation. It's more important to show your talent the right way to get popular than doing these stupid stunts. And if celebs are also doing it then they must realise that they are influencing their fans.
Pranitaa Pandit: I would like to say it's not a safe act at all especially keeping in mind the roads and where we live. It makes no sense to do this and it is highly stupid. People in today's day and age are just doing anything in the name of entertainment. It's not at all cool and I would not vouch for it. I would not do something just because someone challenges me.
Also Read: Kiki Challenge goes Desi: Two farmers break the internet with their innovative twist to In My Feeling
However, there were some who found KiKi Challenge really fun if done with proper supervision. 
Neha Kaul: I think the Kiki challenge is fun and there's no harm really if people who are doing it are mature enough to know how to do it safely.
Ayyaz Ahmed: There have always been challenges like the ice water bucket ASL challenge but I haven't done any until it's for a friend or closed one's benefit. As far as this challenge is concerned, it is safe if the right place is chosen.
Sheeba: That's just crazy - it's dangerous for you and other motorists. There's a limit to social media keeping health-safety and propriety in mind. I think people should be more careful before blindly following the so-called "trends".
Puru Chibber: I know everyone has their own choice but I just want to tell them to please be careful. I recently saw a video where the person got hit by a car while doing the challenge. If you are doing it please check your safety first.
Naveen Sharma: I am yet to do the challenge. I found it interesting though I would advise everyone to do it with proper safety measures and not a busy road.
Meanwhile, TV actors including Nia Sharma, Karishma Sharma and Shraddha Arya have already attempted the challenge. Their videos are going viral on the internet. 
However, Shraddha Arya clearly mentioned in her Instagram post to be careful while attempting this challenge. 
She wrote, "Please do not try this on a busy road or wherever there's even a hint of danger ...In fact, do not try it at all.. we are in the film business so we know how to do such things safely(even then it could go wrong,I agree), I wouldn't recommend this to anyone to try at all!!"
To know everything about KiKi Challenge, follow the link below: 
What is KiKi (KeKe) or InMyFeelings Challenge? How it started? Why police thinks it's dangerous; All you need to know