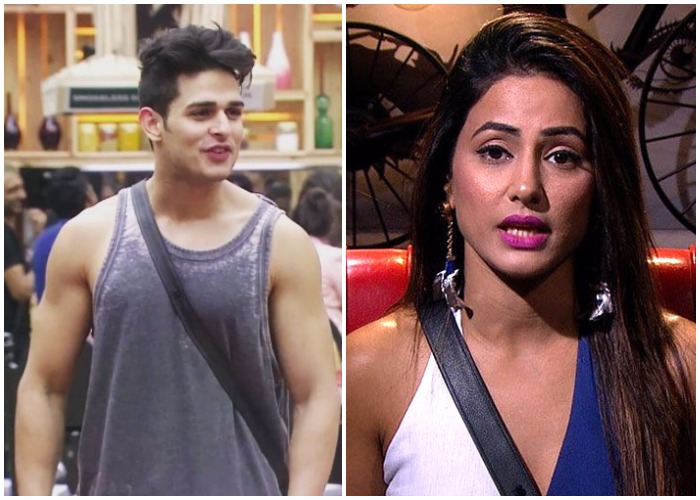 This week Bigg Boss 11 house saw old friendships dwindling while new friendships finding a way to bloom. Arshi Khan who used to be Shilpa Shinde's loyal is nowadays seen torturing the latter most of the times. Arshi is disappointed with Shilpa for backing Puneesh Sharma and Bandgi Kalra. She has now switched sides and joined Team Hina Khan. Priyank Sharma also reconciled with former friend Vikas Gupta. They shared a heart-melting moment in yesterday's episode. Puneesh, Bandgi and Arshi were sent to jail after a lot of hullabaloo in the house. Today, Priyank Sharma and Vikas Gupta will compete for the captaincy in fun DJ task. Vikas and Priyank will enact DJs tonight and housemates will shake their legs in support of their favourite contender. Let's see who earns the captaincy this week. 
Vikas Gupta tries to mend differences with former friend Arshi Khan, but the latter is in no mood to reconcile with him. She even writes 'Mera best friend dhokebaaz hai' on the jail's wall. But later she writes 'I Love V.G' expressing her friendship for him. Arshi even asks Hiten Tejwani to stop talking to Vikas, who later refuses. 
Vikas discusses Shilpa Shinde with Priyank Sharma how she changed over the course of the show. He says, "Pehle mujhe chai peene nahi deti thi, ab chai laake deti hai". Hina Khan is still angry at Shilpa for not making the egg, while Priyank tries to calm her down. For the uninitiated, it was the same matter for which Hina Khan was trolled on social media, including Benafsha Soonawalla's boyfriend Varun Sood. 
Arshi Khan is still angry at Shilpa Shinde for taking care of Puneesh Sharma and Bandgi Kalra. She is disappointed with her for not asking her food when she was in the jail. Bandgi thinks Arshi is staging the fight so that Salman Khan calls her in the Sultani Akhada. Akash Dadlani says Hiten Tejwani is the least popular celebrity outside the house. Hina Khan bitches about her arch-rival Shilpa Shinde for taking the 'Maa' word too seriously. 
Vikas says its the Karma that's striking back at Shilpa Shinde. Arshi Khan is torturing Shilpa just like the way she tortured Vikas in the beginning of the season. But Shilpa Shinde decides to give a silent treatment to Arshi in this case. She breaks into tears, but Arshi is in no mood to give up on pestering her. 
It is time for the captaincy task. Tune in now to #BB11 to catch a super fun task. pic.twitter.com/IAySKQPRxt

— COLORS (@ColorsTV) December 1, 2017
Now comes the time to conduct the captaincy task. It's called DJ war. Priyank and Vikas will have to play DJ in this task and handle their console. Each housemate will have to dance on the stage to support their favourite contender. The contender with maximum dancers will win the task. Hiten Tejwani is the Sanchalak of the task and hence is not allowed to support any contender in the house. 
.@ipriyanksharmaa negotiates with Puneesh Sharma to get his support. Tune in to #BB11 to watch their deal. pic.twitter.com/irvet13Mpd

— COLORS (@ColorsTV) December 1, 2017
Arshi Khan supports Vikas Gupta while Hina dances on Priyank's tune in the task. It's a fun task, we must say! Not surprising though, Shilpa Shinde dances off for friend Vikas Gupta while housemates cheer. Bandgi Kalra keeps her promise, dances for Vikas Gupta on stage. Housemates too indulge in dancing session down the stage. Whoa! Akash and Priyank go shirtless! 
The music starts playing again and you won't believe who is dancing for @lostboy54. Tune to #BB11 to find out. pic.twitter.com/p49hVmHHIX

— COLORS (@ColorsTV) December 1, 2017
However, Hina Khan is upset with Priyank Sharma for bargaining with Puneesh Sharma for captaincy. She thinks its wrong if someone deserving has to go home instead of Puneesh due to Priyank's promise. Puneesh breaks promise and dances for Vikas Gupta. We can see the majority and Vikas Gupta becomes the captain of the house for the second time in this season! He's the first contestant to become the captain for the second time. 
Hina Khan doesn't trust Arshi Khan. She believes that she will flip as soon as matter settles between her and Shilpa. Priyank and Luv are talking about Hina Khan's insecurity. She feels that Salman Khan is being biased towards Shilpa Shinde. Priyank and Luv are heard talking against Hina for the first time. They also felt that Hina was disappointed with the 'Devil' title in the task. Priyank reveals how badly she wanted the Bigg Boss winner title, which went to her rival Vikas Gupta.