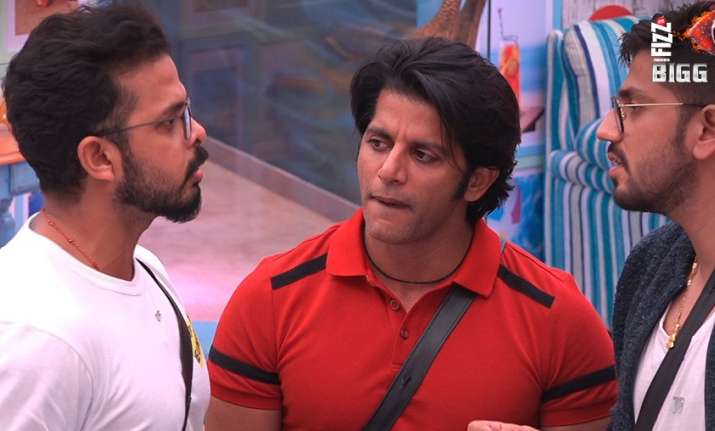 After an entertaining episode in the Bigg Boss 12 house yesterday, contestants were given the Kaalkothri task tonight. Yesterday Bhajan singer Anup Jalota entertained audience by playing the character of 'Rangila Raja' and singing Sunny Leone's track Baby Doll in the captaincy task. After a tough competition, Kriti Verma and Roshmi Banik were selected the first captains of the Bigg Boss house. Meanwhile, we even witnessed Sreesanth and Shivashish Mishra indulging in some heated arguments with each other. Khan sisters Saba and Somi also had arguments with Deepak. In today's episode Bigg Boss 12 contestants faced the first nominations and Karanvir Bohra, Romil and Nirmal were jailed and nominated for the first eviction. Here are all the latest updates of today's episode of Bigg Boss 12.
Bigg Boss 12 Day 5 Highlights:
9:59 pm: Nehha and Dipika gossip about Srishty. Dipika says Srishty is acting very offensive from day one. Srishty gets emotional and cries her heart out infront of Urvashi. Urvashi tries to console Srishty. Somi tries to help Romil and Kriti gets annoyed by her behaviour. Kriti and Somi have a heated argument. Kriti instructs Somi not to help any punished contestants, but she ignores her.
#SomiKhan aur #RomilChoudhary mein ho rahi hai khatti-meethi nok-jhok! Kya #KritiVerma ko hogi isse problem? #BB12 #BiggBoss12

— COLORS (@ColorsTV) September 21, 2018
9:40 pm: Sreesanth ties a friendship band to Deepak. Deepak and Urvashi can be seen having some serious discussion about the last night captaincy task. Deepak compliments Srishty for her kind nature. Srishty gets emotional after hearing this. Srishty expresses herself in front of Deepak and says she feels lonely in the Bigg Boss house. Somi asks Romil to support her when needed. 
Looks like #DeepakThakur has succeeded to please @SrSrishty! #BB12 #BiggBoss12

— COLORS (@ColorsTV) September 21, 2018
9:25 pm: Deepak asks Romil and Sourabh to act sorry to gain sympathy of Bigg Boss. Dipika says Srishty was the right candidate to get nominated. Anup and Nehha discuss nominations. Anup says Srishty should be jailed and nominated for the eviction. Sourabh says Saba and Somi were the right candidates to be jailed. Jasleen and Saba discuss about the captaincy task. Jasleen says Dipika was the right candidate for the captain. Deepak and Jasleen have an argument on the captaincy task. Anup tries to calm down Deepak. Jasleen says she is not answerable to Deepak for anything.  
Bhai ke liye gaana toh gaake hi rahunga. #BB12 #BiggBoss12 pic.twitter.com/PzYKARFXju

— COLORS (@ColorsTV) September 21, 2018
Housemates ka haal hone wala hai behaal kyunki waqt aa chuka hai 'Kaal Kothri' ki saza ke liye contestants chunne ka! Dekhiye #BB12 aaj raat 9 baje. #BiggBoss12 pic.twitter.com/VoYPa6lVyv

— COLORS (@ColorsTV) September 21, 2018
9:19 pm: Romil and Sourabh discuss game strategy. Romil asks Sourabh to play from the front foot and try to participate in all activities. Saba and Somi plan to irritate the captain Kriti. Saba and Somi start fighting with the captain Kriti. Bigg Boss asks housemate to name contestants who should be jailed. Bigg Boss announces that Sreesanth will be exempted from this task due to ill health. Kriti says Saba and Somi should be jailed. Anup announces Dipika's name for the Kaalkothri as she failed the captaincy task. Dipika announces Karanvir's name. Kriti announces the final name and says Karanvir, Romil and Nirmal should be jailed. Later, Bigg Boss nominates Karanvir, Romil and Nirmal's name for the first eviction round.
Kyun mili #RomilChoudhary, #NirmalSingh aur @KVBohra ko Kaal Kothri ki saza? #BiggBoss12 #BB12 pic.twitter.com/sI2Y5fPngP

— Bigg Boss (@BiggBoss) September 21, 2018
Apna focus banaenge, sabka focus hila denge.#BB12 #BiggBoss12 #SomiKhan & #SabaKhan pic.twitter.com/J2aRZhe2Gv

— COLORS (@ColorsTV) September 21, 2018
9:00 pm: Deepak and Kriti have discussion about the captaincy task. Kriti assigns household responsibilities to all the housemates. Saba wants to take the kitchen responsibilities and refused to do any other work. Sreesanth is missing his family members and remembers his family. He gets emotional. Dipika and Karanvir try to console Sreesanth. Housemates wake up to the song 'Hum Tum Ek Kamre Mei Band Ho'. 
8:45 pm:
Housemates ka haal hone wala hai behaal kyunki waqt aa chuka hai 'Kaal Kothri' ki saza ke liye contestants chunne ka! Dekhiye #BB12 aaj raat 9 baje. #BiggBoss12 pic.twitter.com/VoYPa6lVyv

— COLORS (@ColorsTV) September 21, 2018
8:40 pm: 
Exercise aur riyaaz se shuru hota hai housemates ka din! Catch all the masti tonight at 9 PM. #BB12 #BiggBoss12@sreesanth36 #ShivashishMishra @SrSrishty @anupjalota #RoshmiBanik @KVBohra pic.twitter.com/HUFWHAOtmR

— Bigg Boss (@BiggBoss) September 21, 2018
8:35 pm: 
.@KVBohra, #NirmalSingh aur #RomilChoudhary ko mili hai 'Kaal Kothri' ki saza aur hogaye hain vo nominate for next week's elimination! Tune in tonight at 9 PM. #BB12 #BiggBoss12@iamappyfizz @oppomobileindia @TheGarnierMan @letsdroom pic.twitter.com/Eoog1TyXzV

— COLORS (@ColorsTV) September 21, 2018