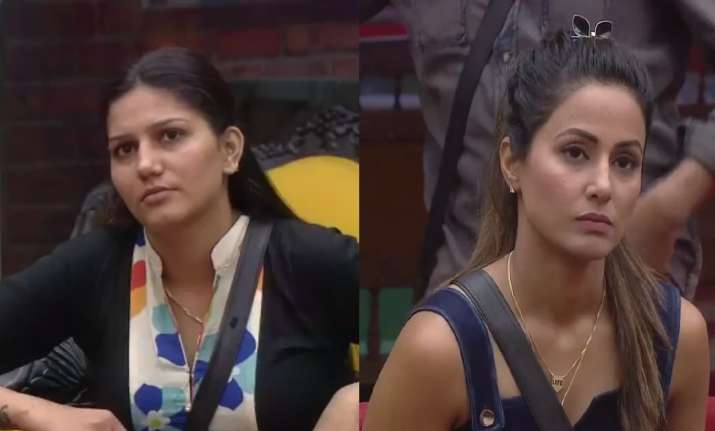 Last Friday's Bigg Boss 11 episode was full of adrenaline as race to captaincy has started yet again. After Vikas Gupta was terminated from captaincy this week, Puneesh Sharma was the interim captain of the house. The episode starts with the housemates sitting divided and bitching about each other. Hina Khan talks about Arshi Khan with Sabyasachi in the garden area. Arshi mocks Hina while she was meditating. Benafsha now stands against Hina Khan. 
Sapna Choudhary and Hina Khan nominated for captaincy 
After winning the luxury budget task this week, Vikas Gupta's team is eligible for captaincy. Housemates have to elect two best performing candidates for the captaincy. Most of the housemates nominated Hina and Hiten or Hina and Sapna, which upsets Benafasha who thinks she performed better in the task. Vikas Gupta explains that he didn't nominate Benafsha as it as all about captaincy. Finally after the discussion, housemates nominate Sapna and Hina for captaincy. Benafsha is not happy with the decision. Shilpa Shinde is also not happy with Hiten's nomination for captaincy as he didn't performed well in the luxury budget task. 
Sapna Choudhary likes Gauri Pradhan's message for Hiten
Sapna reads the message of Hiten's wife to him, to Hina. They are impressed by the quote written by her. She wrote 'Be a leader, not a follower'. Sapna says that she has lost all the respect for the man, but now she respects his wife. Sapna tells the camera that she loves Gauri Bhabhi for writing such a nice quote for her husband. 
Hina and Sapna's race to captaincy 
In the task assigned by Bigg Boss, Sapna and Hina has to nominate a candidate for themselves to carry out this task. Each candidate will be made to sit in a glass container. The housemates have to fill the container of the captaincy candidate they are not supporting with sand. The housemate in the container has to throw the sand out as fast they can. The glass container with least amount of sand will win. Hina selects Hiten Tejwani for the task while Sapna Choudhary sends Puneesh Sharma.  Hina Khan wins the captaincy as Hiten Tejwani's container has the least sand at the end of the task. 
Benafsha is not happy with Hina's captaincy as she thinks that she's a diplomat. She never sticks to her own words. 
The race to the captaincy begins! Who will win between @eyehinakhan and Sapna Choudhary! #BB11 #BBSneakPeek pic.twitter.com/klSQDBNwsC

— Bigg Boss (@BiggBoss) October 20, 2017
Vikas Gupta's talk show with nominated housemates 
In the talk show with Vikas Gupta, each nominated contestant has to tell the reason why they should stay in the house and they have to nominate another contestant from the nomination list and give a reason as well. 
In tonight's episode of #BB11 at 10:30 PM, every nominated house mate will say why they deserve to stay in the house. #BBSneakPeek pic.twitter.com/VENvoz1pjT

— Bigg Boss (@BiggBoss) October 20, 2017
This week, Hina Khan, Luv, Puneesh Sharma, Sapna Choudhary and Akash Dadlani are nominated.