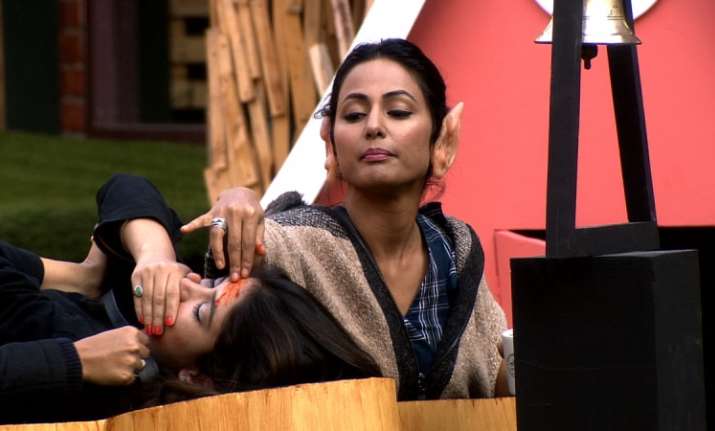 Bigg Boss 11 November 28 episode is full of revenge and hard-core competition. The luxury budget task and captaincy nominations are at stake and, all BB 11 contestants are leaving no stone untouched to outdo one another. In the last day's episode, commoners Luv Tyagi, Puneesh Sharma and Bandgi Kalra were nominated for eviction this week. Today, the housemates battle it out at the new luxury budget task, which is inspired by Jonathan Swift's satire Gulliver's Travels. 
The contestants are divided into teams of two; that of giants and Lilliputians. The Lilliputians—Hina Khan, Arshi Khan, Luv Tyagi, and Akash Dadlani--will have to complete the task on their knees. They are supposed to capture one giant--Hiten, Bandgi, Puneesh, Shilpa--and make them quit the task in the middle by resorting to various means. Vikas Gupta and Priyank Sharma are the two 'Sanchalak' supervising the task
Taking the competition to an entirely new level, Hina Khan rubs chili powder all over Giant Bandagi' face and body. Using Chili Powder as her secret weapon, the TV actress continues to put Bandgi in pain by all means possible. She will also put chilli powder into Bandgi's eyes and when the Delhi based software engineer will complain about the issue, Vikas will try to intervene. However, Hina will make a fuss over it, and tells Bandgi to give up the task to ease her pain. 
The housemates take full advantage of making life hell for the others during the Task. Keep watching #BB11 to find out more! pic.twitter.com/VDSYPjmydz

— COLORS (@ColorsTV) November 28, 2017
Hina Khan and other Lilliputians Arshi, Akash and Luv also target Shilpa Shinde by covering her face with red chilli powder. Furthermore, Hina will also kill  insects around her and put them inside Shilpa's clothes. Puneesh is given a similar treatment with wax strips and chili powder.
Stay tuned in Colors at 10:30 pm tonight to witness cruel and messy luxury budget task of Bigg Boss 11. 
For more entertainment news and updates, follow our Facebook page