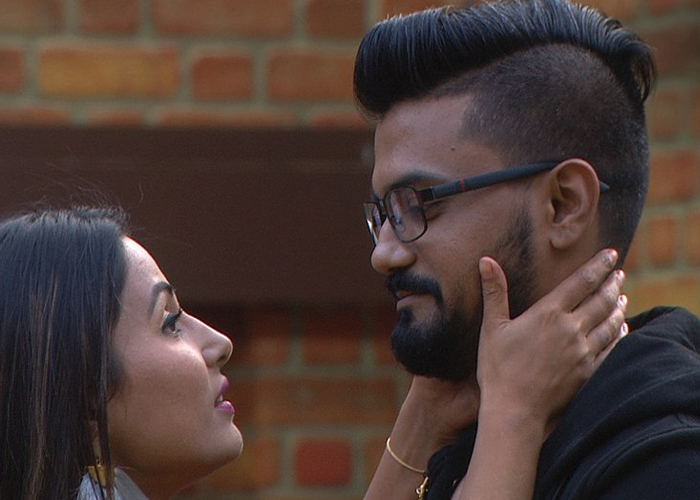 As the finale of Bigg Boss 11 is nearing challenges for the housemates are equally increasing in the house. In the recent episodes, the remaining seven contestants of Bigg Boss 11 including Hina Khan, Vikas Gupta, Shilpa Shinde, Priyank Sharma, Puneesh Sharma, Luv Tyagi and Akash Dadlani were assigned some tough tasks to reunite with their relatives. In the previous tasks Hina, Shilpa and Luv emerged as the winner of the task. As part of the new task, contestants were asked to put together a gift basket that according to them can impress their relatives.  
Live Updates:
11:27 PM: Puneesh, Shilpa and Akash discuss about Vikas and plot against him. They asks Shilpa to trouble Vikas a bit to make him cry. 
11:20 PM: Akash tells Shilpa and Puneesh that her mother has sent blessings for them too. Shilpa and Puneesh say that they will also play their individual game now and will trust no body now. Vikas's mother enters the house and she breaks down. Vikas picks his mother up and make her sit in his lap. She asks him not to cry and stay strong. She also meets the other contestants.
11:15 PM: Shilpa's brother enters the house and asks her about her well being. Shilpa breaks down while talking to him. Housemates makes fun of Shilpa. Akash's mother enters the house. Akash touches her feet. She asks her not to trust anyone and play the game individually. Akash tells his mother that she has gained little weight and looks cute. Akash again touches his mother's feet while saying good bye to her.
11:10 PM: Puneesh finally meets his girlfriend Bandagi and kisses her on her cheeks. Before leaving the house Bandagi meets all the contestants. Hina also meets Rocky in the lawn and kisses him on his cheeks. Hina asks Rocky that whether she will win the show or not? To which Rocky says of course she is the winner of the show. Rocky meets all the other contestants of the house. Later, all the contestants teases Hina when she comes back. 
11:05 PM: Luv gets emotional after seeing his and his mother consoles him. Housemates praise Luv's mother and says that she is really strong. Akash asks Puneesh and Hna to kiss their partners Bandagi and Rocky on National TV. Luv introduces his mother to the housemates and says good bye to her.
10:55 PM: Priyank gets excited to see his mother and introduces her to all the housemates. Luv meets his mother and breaks down. Shilpa says Priyank's mother is very sweet. Puneesh says Vikas is going to cry a lot the moment he meets his mother. 
10:51 PM: Housemates get excited when Bigg Boss asks Priyank to wait in the garden area. Bigg Boss says that he can understand that the situation is tough. He says that he will take away the chances of captaincy and allow all the contestants to meet their relatives. Priyank's mother breaks down as she will finally get a chance to meet him. Bigg Boss asks Hina to set everyone's scoreboard to zero.
10:46 PM: Bigg Boss asks family members to decide that who sent the best gift. Family members of the housemates say that can't take any decision in this task. Vikas's mother gets emotional and Bandagi consoles her. Rocky says he is happy to get the gift and does not care about the task. Shilpa's brother also gets emotional and shares an incident that how Shilpa reacted when her father passed away.
10:42 PM: Priyank sends his mother his lucky shoes. Luv packs his shirt which he wore during Bigg Boss auditions. Shilpa packs photographs for her brother. Hina prepares a special basket for Rocky with many items. Puneesh also sends a special gift for Bandagi. Akash sends his Suraksha Kawach for his mother. Priyank sends many more items for his mother. Shilpa breaks down while keeping gifts in the store room. 
10:35 PM: Vikas's mother gets emotional and says that people used to ask her that is Vikas is going marry Shilpa after the show? Shilpa talks about Vikas to Puneesh. Luv announces the basket making task. He announces that contestants will have to make gift baskets for their family members.  
10:31 PM: The show begins with an emotional footage of the housemates which shows their meeting with their closed ones. Govinda's popular song Mummy mummy.