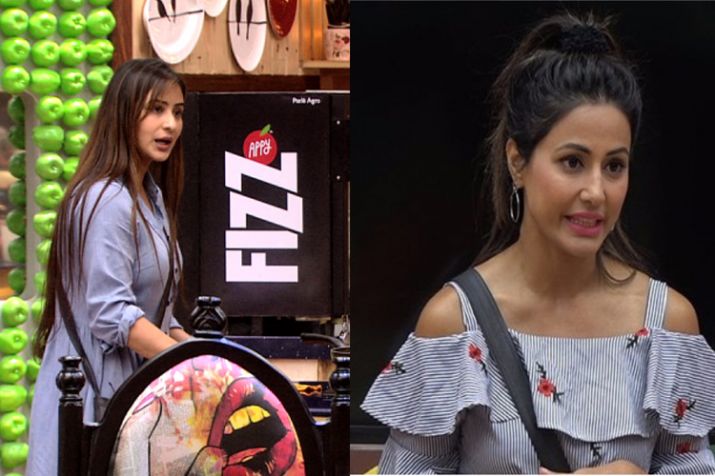 Bigg Boss 11 inmates Shilpa Shinde and Hina Khan were on aggression mode and got into a fight. Not just them, repeat offender Priyank Sharma and Vikas Gupta also had a nasty exchange. In yesterday's episode, Team Vikas Gupta, including Shilpa Shinde, Luv Tyagi and Arshi Khan won the BB Lab task and Puneesh Sharma was the sanchalak (director) of the task.
Live updates of Bigg Boss 11, December 14 episode:
11:25 PM: Bigg Boss gives Arshi two options and she chooses to see Luv and Hina's video of the time when they discussed about her outfit. Arshi and Hina later talk about the issue. 
11:23 PM: Vikas and Arshi try to console Shilpa. Later, Shilpa reveals that even Arshi uses tap water to cook food, to which Arshi agrees. Arshi then gossips with Hina about Shilpa and Vikas. 
11:18 PM: Hina suggests Shilpa to use RO water instead in cooking food. She also says that tap water could be the reason of her tummy troubles.  
11:13 PM: Another round of angry exchange between Hina and Shilpa over tap water being used in cooking. Vikas intervenes, suggests Shilpa to not use tap water in cooking. Clarifying, Shilpa says the tap water which she uses in cooking gets boiled in the process. She also says that while cooking she cannot fill water from RO as it takes time. A visibly angry Hina offers to fill water for cooking but guess it's too, late as Shilpa gives up the kitchen work, to which everyone seems to be okay.
11:10 PM: Housemates try their best to convince Arshi Khan to get an access to the CCTV footage. At the end, Arshi announces Hina's and Vikas' names to grant access to the CCTV footage.  
11:00 PM: A special power is given to the captain of the house Arshi Khan by Bigg Boss. Using the power Arshi can see the footage of what other inmates have been talking about her. Further, Bigg Boss says that Arshi can name two other persons name who can get CCTV access along with her. 
10:57 PM: Housemates declare Hiten and Priyank as worst performers in the task. Both Hiten and Priyank join Akash in jail. Arshi locks all three of them in jail following the instructions of Bigg Boss. 
10:50 PM: Bigg Boss asks Arshi to nominate one person's name who was the worst performer in the task and send him to jail. Arshi announces Akash Dadlani's name as he avoided her instructions during the captaincy period. Bigg Boss then asks the names of two more contestants to be sent to the jail with Akash. 
10:45 PM: Vikas gave a warning to Priyank to not talk about this for the sake of game. Further Priyank can be seen talking to Akash Dadlani that everyone in the house threatens him. Shilpa later tells Vikas that Priyank is trying to provoke him and he even succeeded in it. 
10: 35 PM: Vikas tries to talk to Priyank in the living area. he requests Priyank to stop any kind of discussion about his family. Vikas also says that he had mocked him by disclosing his pet name. Priyank says sorry to Vikas.
10:30 PM: Vikas Gupta can be seen discussing Priyank's issues Hiten Tejwani at the start of the show. While Priyank can be seen gossiping with Arshi Khan, the latter can be seen supporting Priyank. Later, Arshi comes out and tries to talk to Vikas, which enrages him. Vikas then says he is angry with Priyank.