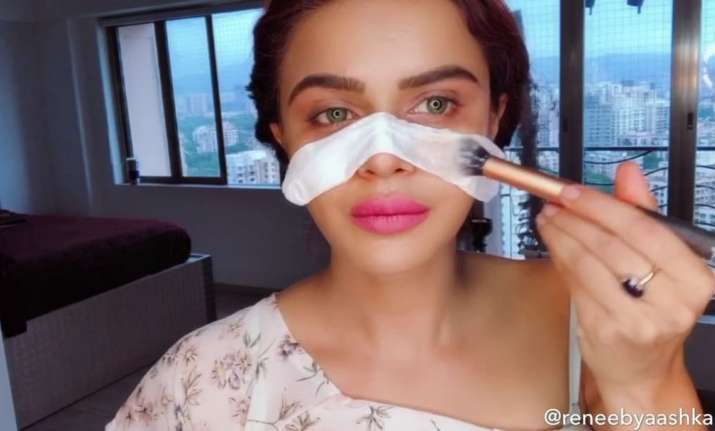 TV actress Aashka Goradia who was last seen in Naagin is currently enjoying her marital bliss with husband Brent Goble. The gorgeous girl got married to her long time boyfriend in Ahmedabad last year. Taking a sabbatical from the TV shows, Aashka has been keeping herself busy with her latest cosmetic line Renee by Aashka. Also, she has started a beauty vlog on Instagram which has more than lakhs of viewers on the social media.
Recently, she shared a video in which she's telling her Instafam how to maintain a healthy skin during monsoons. Skincare during monsoons is one of the most searched beauty queries by the young girls. The hot and humid climate serves as the perfect setting for the bacteria to breed on our skin. Hence, Aashka Goradia has enlightened her fans about a DIY skincare hack which can be prepared using only two ingredients: egg white and lemon juice.
Aashka shared the video on Instagram revealing the recipe. She wrote, "DIY ready!
Two ingredients only- lemon and egg whites
What does it do:
Egg whites are a natural astringent and hence work as a good remedy for sagging skin. Skin tightening right there!  The vitamin C in lemon helps boost collagen production
Egg whites treat acne because as they dry on the face, it helps cleanse the skin by lifting dirt out of the pores and soaking up excess oil, which causes acne.
What you got to do:
Mix egg white and lemon juice.
Apply a thin layer on your face, now bandage the whole face with tissues for lift, like shown in the video.
Dance while it's drying up. Most important step!! 
Once dry, gently pull the dry mask out.
Happy skin|Tight skin| Blackhead and Whitehead Free Skin.
Rs 20/- spent for all the above-mentioned benefits.
No chemical|No Damage
Do it twice a week.
@reneebyaashka"