 Movie Name:Yamla Pagla Deewana Phir Se
Critics Rating: 1.5 / 5
Release Date: August 31, 2018
Director: Navaniat Singh
Genre: comedy-drama
When the trailer of the much-awaited comedy-drama of the Deol trio, Yamla Pagla Deewana Phir Se, surfaced the internet, it promised 'emotions, drama, tragedy and lots of entertainment.' Well, it won't be wrong to say that the film has nothing but lame jokes and poor dialogues. Starring legendary actor Dharmendra and his two sons Sunny Deol and Bobby Deol, the movie happens to revolve around protecting 'an Ayurvedic formulae' that Pooran Singh's family, played by Sunny Deol, has been using since ages to cure poor people but a pharmaceutical magnate Marfatia (Mohan Kapoor) tries to get his hands on it and succeeds. But how can a villain succeed in a three-hero movie? The movie is as predictable as it can be. Even in the first half, you can tell how is it going to end. The weak climax and absence of power-packed action scenes, as expected from a Sunny Deol film, rounds up the movie for us.
After Yamla Pagla Deewana 2 failed miserably in 2013 to charm the critics and audience alike, the Deol trio is back to revive the magic of their chemistry and the smiles they spread with the first part. But the storyline and the screenplay of this film doesn't speak in their favor. The first half of the movie is 'boring' in plain words and circles around Bobby and Kriti Kharbanda's love story. However, the second part still manages to give us some drama. Nonetheless, it looks like, not just the makers but even the actors have not worked hard to give us a good film. Instead, it seems after Race 3, this is just another attempt to make sure Bobby Deol has his feet rooted into the showbiz world once again as he enjoys most of the screen space. But that doesn't mean he has done a good job.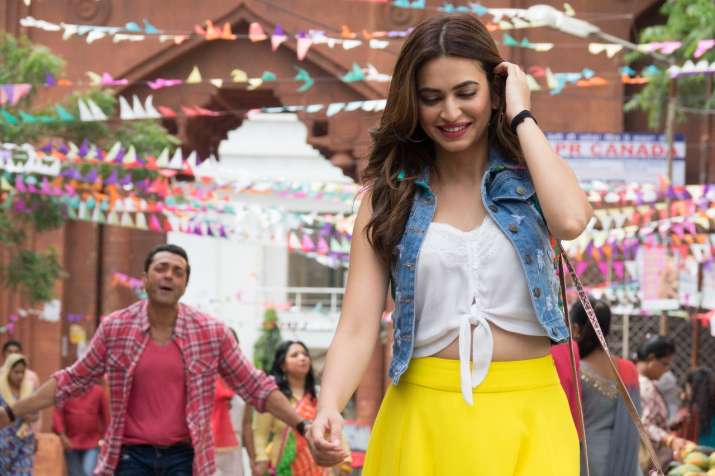 It seems that before shooting the movie Bobby Deol saw Dharmendra's iconic movie Sholay on loop, that too only one particular scene in which Veeru climbs up the water tank and asks mausi for Basanti's hand in marriage. Younger Deol brother thought if that scene managed to woo the audience for ages in Sholay, replicating it would bring him more fans and praises. Certainly, that is not happening. On the other hand, Sunny Deol was the only good thing in the movie. The actor didn't overdo his part and managed to impress us with his 'dhai kilo ka hath' yet again. We just wish he had more screen space than Bobby Deol and more action.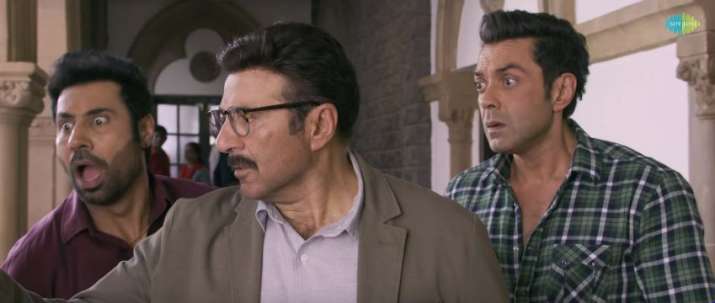 Then comes the legendary actor Dharmendra who performed much below our expectations. Even the actor's other-worldly charm failed to bring some spark in the script. It was evident that he was trying hard to be funny with weird expressions and dialogues. In fact, the three lead actors tried their luck at bringing back their most iconic roles in order to excite the audience but trust me, when I say, the cinema hall sat not even smiling an inch throughout the movie. While Dharmendra tried to revive his Sholay days with the same bike and persona, Sunny Deol also brought back his Gadar look thinking it will force the public to shower him with hoots and whistles.
However, the leading lady opposite Bobby Deol, Kriti Kahrbanda looked gorgeous in the movie and earns full marks for her acting. Her screen presence was good but her role was weak and didn't have the power required to stand out. The only time you will actually see yourself laughing is in the last courtroom scene, that also for a short while.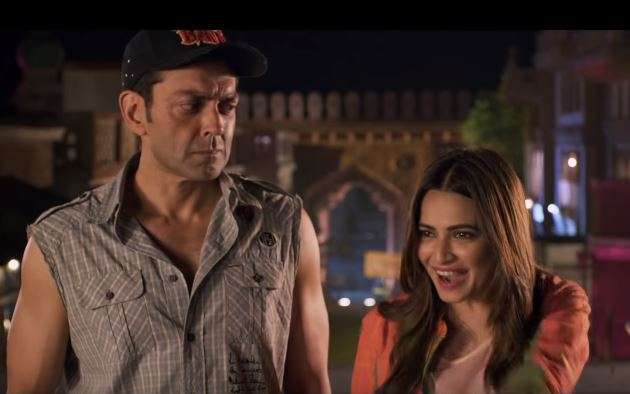 It is a given that Deol's promise of a laughter ride with Yamla Pagla Deewana Phir Se has gone unfulfilled. The songs are nonsensical and misfit to the storyline, although, we can ignore that because there is NO powerful storyline. Directed by Navaniat Singh, Yamla Pagla Deewana Phir Se can be given a miss until and unless you are a die-hard fan of the Deols.
Watch the trailer here-
Catch the Rafta Rafta song featuring Salman khan, Rekha and Sonakshi Sinha here-