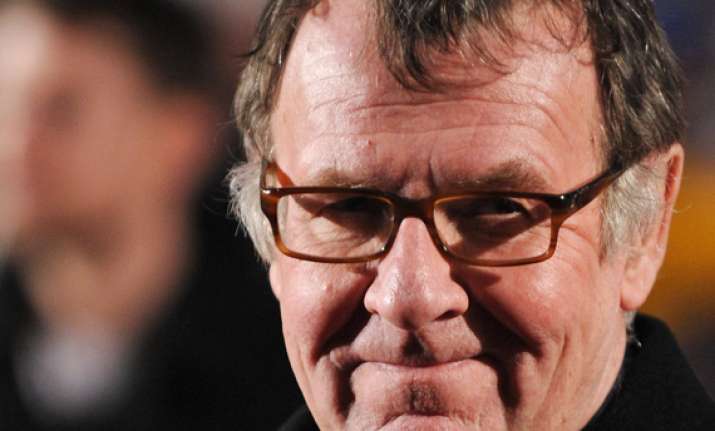 London, Feb 24: Tom Wilkinson teams up with fellow acting legends Dame Judi Dench, Dame Maggie Smith and Bill Nighy in director John Madden's comedy, "The Best Exotic Marigold Hotel."

The film is about a group of British pensioners who've decided to retire to a luxury retirement home in India.

Once they arrive, however, they find it's not as luxurious as they'd imagined.

"It's a comedy of dislocation," explains Madden. "India is the most startling, mad, extraordinary place and people get a certain impression of it, I suppose, from cinema," the director continues.

"If you look at Indian cinema, you get all kinds of impressions of it, but you have to go there and experience it. I was very concerned in the film to try and do that - to get right in the middle of it and not make it the kind of guide book version of India, which it certainly isn't."

The Indian lifestyle comes as a bit of a shock for some of the characters the movie. It's a feeling Wilkinson can relate to.

"I sort of thought I understood the word 'culture shock,' or the phrase 'culture shock,' before I went to India, but I didn't," he comments.

"I was slightly traumatised by what I saw and it never really went away. Extreme wealth (and) extreme poverty that you could never get comfortable with, certainly not get used to, and it kept me disoriented for the whole trip. You just thought 'My gosh, what problems they have in this country and how are they going to solve them?'"

Wilkinson plays Graham - a man who grew up in India and decides to return and research his past. It's not a desire Wilkinson shares.

"Initially I don't think I would want to go back," he admits, "but what it does do, it makes you fascinated. Every bit of information you can get about the country you kind of find out about, because I find it incredibly moving. The prospect of it getting better, or lifting these vast numbers of people out of poverty, you just think well, that is such an important thing and anything, any piece of good news about India, you are sort of slightly thrilled by it."

Madden agrees that India brings out different reactions in those who visit.

"If you talk to anybody who has been to India, you'll get at one extreme people who say they simply can't wait to go back, to the other extreme where people say 'I will never go back again,' because they can't cope with what they are presented with, in terms of the noise, the poverty, what they perceive is the squalor - whatever it may be."

"The Best Exotic Marigold Hotel" also stars "Slumdog Millionaire" actor, Dev Patel and Bollywood starlet, Tena Desae.