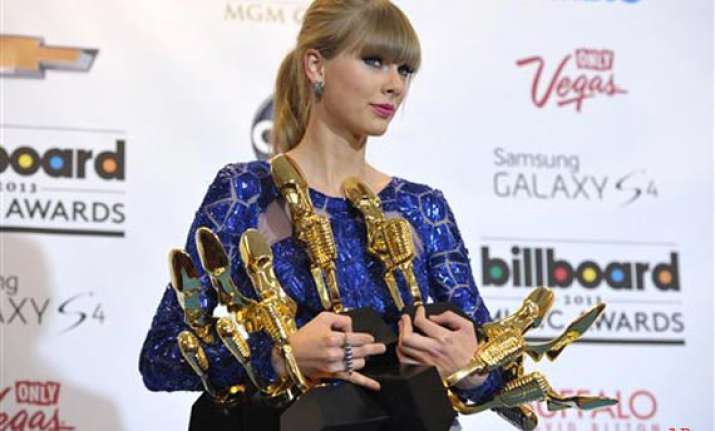 Los Angeles, May 20 :Taylor Swift is red hot.The singer, who is nominated for 11 Billboard Music Awards, was the show's early leader with six wins, including top country artist, country song for "We Are Never Getting Back Together" and country album for "Red."
She topped it off with a colorful performance of her hit "22" -- starting backstage and working her way to the main stage on the back of a bike with help from a dozen background dancers and a flurry of red balloons.
Maroon 5 and fun. were also nominated for 11 awards and won honors in a pre-telecast announcement. Gotye and Rihanna are behind Swift with four awards each.
Bruno Mars and his band kicked off the show in silky red suits that matched their silky dance moves, with bright gold disco balls hanging above them. Mars performed his new single, the upbeat and old-school flavored "Treasure."
Nicki Minaj, who is set to perform with Lil Wayne, won the first award in the live telecast for top rap artist, beating out Drake, Flo Rida, Pitbull and Psy.
"I definitely did not expect this one," she said, wearing a bright red dress.
But the awards show, airing live from MGM Grand Garden Arena in Las Vegas on ABC, is less about the trophies and more about the performances. Selena Gomez sang her seductive new hit, "Come & Get It," while Chris Brown danced around the stage to his latest single, "Fine China," though his voice began to crack during the performance.
Duo Macklemore & Ryan Lewis also performed their massive hit, "Thrift Shop," which won top rap song.
"First and foremost, gotta thank Goodwill, gotta thank Value Village," Macklemore said to laughs.
Prince, who will receive the icon award, will also hit the stage, and Madonna, to be named top touring artist, will make an appearance.
Justin Bieber, who will also perform, is up for the night's biggest award, top artist. Other nominees include Swift, Rihanna, One Direction and Maroon 5.
Swift is the only U.S. act nominated for top Billboard 200 album for her multiplatinum "Red," which will compete with One Direction's first and second albums -- "Up All Night" and "Take Me Home" -- Mumford & Sons' "Babel" and Adele's 10 million-selling "21," which won the award last year.
Bieber, Swift and Mars are also up for the fan-voted milestone award.
Comedian-actor Tracy Morgan is the show's host, and he dressed as Psy in a bright yellow suit when the rapper-singer was onstage to present an award. They had a dance battle to Psy's new single, "Gentleman."
Jennifer Lopez, Pitbull, Christina Aguilera, Ed Sheeran, David Guetta and Kacey Musgraves will also perform Sunday night. Presenters include Shania Twain, Psy, Celine Dion, Miley Cyrus and CeeLo Green.