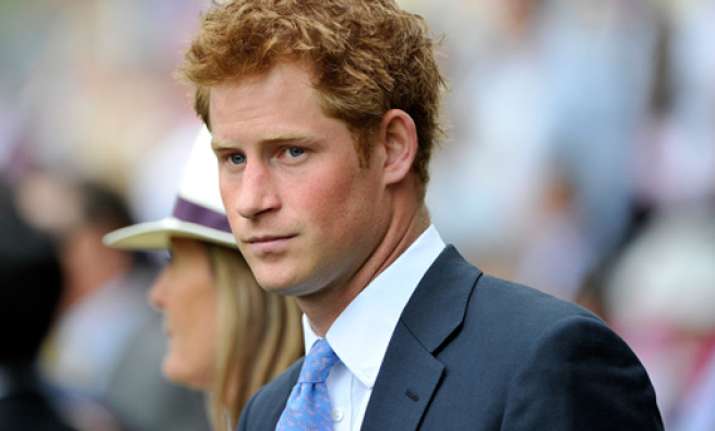 Los Angeles, Nov 22: Britain's Prince Harry spent three nights partying in Las Vegas over the weekend, notably dancing and drinking with a mystery blonde woman, local media reported Monday.

The 27-year-old royal was first spotted with her in the early hours of Saturday at the Nevada gambling mecca's Tryst nightclub, the Las Vegas Sun newspaper reported.

The third in line to the British throne arrived in Vegas on Friday "Easy Rider" style on a rented Harley Davidson from Arizona, where he has been undergoing military training since last month.

After leaving the Tryst at 3:00 am Saturday, he was spotted at another club, the XS, until 4:00 am Sunday—and returned there to party until the same time Monday, the newspaper reported.

The fun-loving royal was seen sitting at a VIP table away from the dance floor, listening to a deejay set by the Manufactured Superstars, celebrity bible People magazine reported.

He sipped a vodka cocktail while a group of eight people at his table—four men, two women, two security guards—drank champagne, beer and bottled water, People said.

It added that the mystery blonde with whom he danced on Friday was again at the table for his third night, wearing a Beatles T shirt and black jeans.

Harry, known as Captain Wales in the armed forces, arrived in California in early October, to learn to fly Apache helicopter gunships in terrain similar to Afghanistan.

Within hours of his arrival he was spotted in a pub and watching rugby in a downtown hotel in San Diego, about two hours away from the base in El Centro where he is stationed.

The prince will return to Britain a fully fledged Apache pilot at the end of the two-month training but Britain's defense ministry has refused to comment on speculation that he has been given the green light to return to Afghanistan.

The 27-year-old has made it clear he is determined to serve again in Afghanistan, where his deployment as a soldier in 2007-2008 had to be hastily cut short after a media blackout was breached.