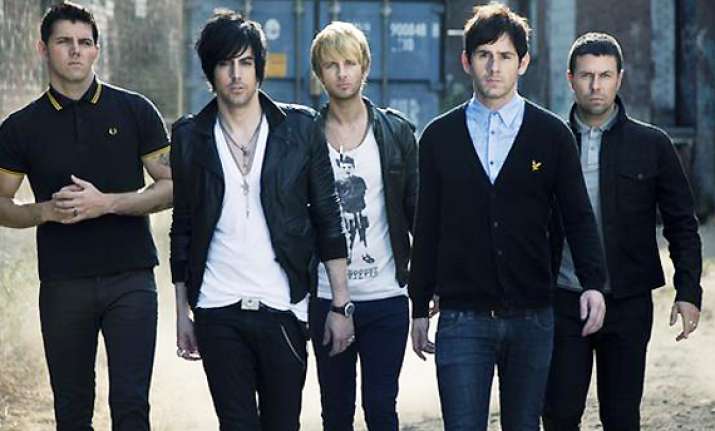 London, Apr 2:
Welsh band the Lostprophets are back and hoping to make an impact with their new single "Bring 'Em Down." The song is taken from their fifth studio album, "Weapons," which was released in the U.K. on 2nd April'2012.
It's been two years since the band last had an album out or toured and the boys say they're bigger and better than ever.
"I'm super excited. We're just enthusiastic, there's a new vitality in the band, " says Jamie Oliver, the band's keyboard player and vocalist.
"Everything feels like, it's like a new beginning. You were saying that when you were actually recording the vocals. It seems like a second wind for us, just... (We're) dying to get out there and play the songs, release it, you know, we've just got loads of energy and enthusiasm for it."
Work on the album began in a private house in idyllic Norfolk, U.K., before moving across the pond to the more glamorous setting of Los Angeles, where they were joined by producer Ken Andrews.
The Lostprophets believe "Weapons" is a move in a new direction for the band. They finally feel like they've found their feet.
"I personally feel like the record has really enhanced the essence of the band, the way that it was recorded and the way that we did it," says Oliver.
"We found a lot more sort of confidence in ourselves and each other, more respect for each other. So the songs that came from it, there was lot less talking and thinking and just a lot more pure creativity.
From that perspective, the songs definitely touched on everything that's inspired us from when we picked up the instruments in the first place. So there's a lot of things from all the different records on this one, it seems quite uniformed to me and it's the most Lostprophets record I think we've done."
With a more aggressive tone on the new album, the band say the video for the new single "Bring Em Down," was also a chance for them to pack in a punch or two.
"It wasn't (Ian's) fantasy to get beaten up but we just didn't want to do... Like Lostprophets is renowned, whenever we get a video treatment, it's like, we'll have you playing live, because you play live really well. We just wanted it mix it up a little bit. The song was our opportunity more than anything to do something a little bit different and were were all like yeah, let's get in, let's go and do some stunts, do some fighting, let's do a little bit of that kind of acting."
"And it was a great experience," he continues.
"We spent a couple of days with a stunt coordinator, to put that together and it was just fun. It was genuinely good fun, we all willing to put in any sort of shame aside and get our hands dirty and act and play. I thought it summed up the song really good, with that same sort of energy. As for Ian, getting a little bit bloody."
Hailing from Pontypridd, South Wales, school friends Ian, Jamie, together with Stuart Richardson (bass), Mike Lewis (guitars), Lee Gaze (guitars) and newcomer Luke Johnson (drums) make up one of the U.Ks biggest rock bands.
Music aside, it's the friendship which seems to rule favor when sparks fly in the recording studio - according to Oliver.
"It's a volatile environment when we're writing songs, so it can't really be formulaic, we have a lot of arguments and there's a lot of tension, and there's a lot opinions, and as I say passion, but at the end of the day we were all friends before we were musicians and in a band. So that always runs underneath any arguments, or stress we have in the studio, and we eventually we all know we're on the same team here, fighting for the same thing."
Fans will get a chance to hear the new album live as the boys embark on a tour of U.K. and Europe throughout April and May.