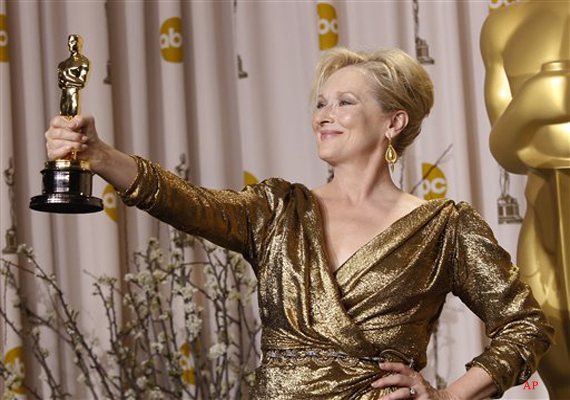 Los Angeles, Feb 27 : Meryl Streep joined a very exclusive club on Sunday, winning her third acting Oscar for her role as a strident Margaret Thatcher in "The Iron Lady."

Streep, 62, won best actress for her 17th Oscar nomination, the most times any performer has been nominated by the Academy.

Her third win put her in a category with other three-time Oscar winners Jack Nicholson, Walter Brennan and Ingrid Bergman.
Only Katharine Hepburn with four wins had more.She joked about how many times she's been up for acting's highest honors.

"When they called my name, I had this feeling I could hear half of America going, `Oh no... her again,"' Streep said. 
Streep played the British prime minister as a senile retiree, as well as a hectoring, dominant figure who instilled fear and respect in her own cabinet. At the film's pinnacle, Streep as Thatcher is the backbone of a nation that goes to war over the distant Falkland Islands after Argentina invades in 1982.

She thanked her fans "for this inexplicable wonderful career" and paid special tribute to her husband, sculptor Don Gummer. Streep also called out for special mention her "other partner," J. Roy Helland, who has done her makeup since 1982 in "Sophie's Choice," the movie that won Streep her first best actress award. Streep also won for best supporting actress for the 1979 movie, "Kramer vs. Kramer."

Makeup artist Helland also won earlier in the night, sharing the award for best makeup with Mark Coulier. "I want to thank all my colleagues, all my friends. I see my life before my eyes," said Streep.

"My old friends, my new friends. Really, this is such a great honor. But the thing that counts the most with me is the friendship, and the love and the sheer joy we have shared making movies together."