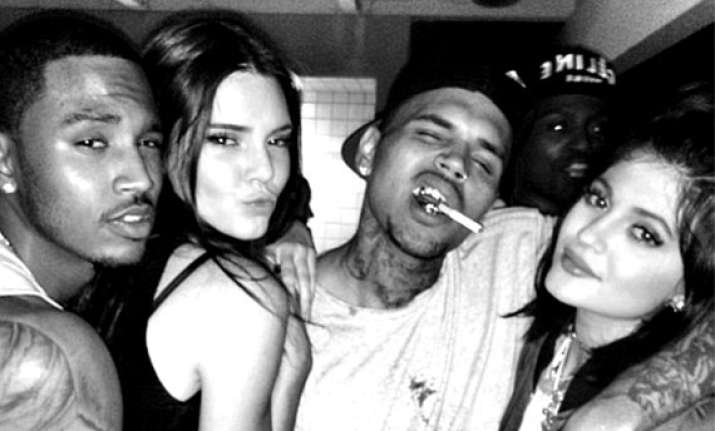 New Delhi: Following the footsteps of elder sister Kim Kardashian, Kendall and Kylie Jenner don't leave a single opportunity to grab the limelight.
Already friends with controversial Justin Bieber, the Jenner girls have shown the world that they are hanging out with rebellious men.
Yes, the Jenner sisters were caught partying with the bad boy Chris Brown.
Kendall and her little sister Kylie cozied up to controversial rapper Chris Brown at what looks like a wild house party.
Other rappers such as Trey Songz were present at the party, where the teenagers made no attempt at hiding how crazy the night seemed.
Kendall dressed in a black crop top and cropped black leather trousers looked sexy. Kylie also opted for a crop top, pairing it with a black miniskirt and baggy jacket.
She wore her jet black bob wavy and highlighted her full lips with a rose-tinted colour.
As going by the pictures the in-house party seems to be all wild and crazy. Kendall and Kylie are good friends with Justin Bieber and have been pictured out with him in recent months.
Chris too shares a good relation with Justin. Most recently, Chris and Justin were pictured partying together at a nightclub in West Hollywood earlier this month.
So the connection between the Jenner sisters and Chris Brown must have grown from here. Girls were seen getting cosy with Chris and other rappers present their.
 Recently both Kendall and Kylie was crticised for being rude by fans at a recent event.